New website aimed toward the consumers of horse meat.
Please share this link on your website and through your email list. Also any help we can get by posting it in forums based in the EU would be great.
Anyone that links www.americanhorsemeat.com to their website or any EU based forums please post here so I can make a note. I plan on sending the link out to all the rescues etc. asking them to show the link on their website.
I did a search for horse meat recipe and got tons of results. I am going to work on getting the link posted on those sites if at all possible.
www.americanhorsemeat.com has no graphic images on the pages. The video page has graphic warnings where they apply.
Any help is greatly appreciated.
Lucille Matte
Mortgages Direct
2000 Bering Drive, Suite 100
Houston, TX 77057
(713) 860-1218
Now Open:
Missy's Hope Equine Rescue Resource's Cafepress Store!
I am in the process of setting up the store now (as well as working to create a logo for The Chey/Annie Project!). All proceeds from the store will go directly into the general fund of The Chey/Annie Project. If possible, I will set it up so that people can choose which state their funds go to if they would rather support a specific state. Please bear with us as the store is still a work in progress!
http://www.cafepress.com/Missys_Hope
I would not be able to make this site possible without the help of individuals who scan advertisements for horses that are in danger of going to auction, direct to slaughter, or are in the right price range to be purchased by a kill buyer. Thank you to all those who help!
If you do not see any horses for your state and would like to help, please feel free to send me the information that you find. They will not only be posted here on the site, but compiled into a list that is sent to many rescue organizations and private individuals who would like to help the horses.
Greatest thanks go to Lynn E. (from the New England Area) and Shanna ( Midwest "At Risk" Horse Listings: http://atriskhorselistings.blogspot.com/)for helping to compile lists for their areas and being willing to share them with me!
Missy and her Momma, CC, at a few days old.
This site was created in memory of Miss TangereaTopsail aka Missy. Her passing lead us to the Equine Rescues and the knowledge of what they do.
To read her story, click here.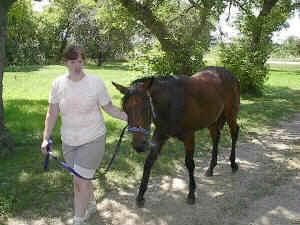 Missy on our final walk together.
Please take a moment to browse these pages. Learn about the horses looking for homes. Learn about the rescues that need help. Learn about what you can do to help the horses in your area. Then open your heart and help. Helping doesn't necessarily mean donating money. Sometimes it is as simple as passing the word on to others.
What is an equine rescue? A person or group of people working together for the welfare of horses, mules, and donkeys. They tirelessly take in these animals to save them from abuse, neglect, or slaughter. They work to educate owners and the public in general about the care and commitment that horses bring into a person's life. They bring a ray of hope to people who need help and can no longer care for their horses.