About Us
Currently I am unable to devote the time necessary to keep the nightly lists and horses looking for homes website pages updated due to my health. I would like to share a little information with everyone so they will know a little more about my disorder and the way it affects me. I have a disorder called Postural Orthostatic Tachycardia Syndrome (POTS). POTS is a disorder that affects the ability of a person's body to regulate their heart rate upon standing. For example, when off medication my heart rate jumps from about 60 beats per minute when resting to over 140 beats per minute when standing (it can take up to 10 minutes to reach this point, although most of the time my heart rate makes this jump within seconds of standing)...this massive jump in heart rate makes standing almost like running a marathon. It causes lightheadedness, massive exhaustion, headaches, and many, many more symptoms. Because the heart has to work harder to balance the system, the quality of life is similar to having congestive heart failure.
For more Information about Postural Orthostatic Tachycardia Syndrome please visit the following links:
Dysautonomia Information Network
POTS: An Overview Dysautonomia Information Network
http://www.dinet.org/pots_an_overview.htm
National Institute of Neurological Disorders and Stroke
http://www.ninds.nih.gov/disorders/postural_tachycardia_syndrome/postural_tachycardia_syndrome.htm
The Postural Tachycardia Syndrome (POTS): Pathophysiology, Diagnosis & Management
Postural Tachycardia Syndrome
http://www.nymc.edu/fhp/centers/syncope/POTS.htm
Hello, I am Brandi Qualset and I am the founder of Missy's Hope Equine Rescue Resource. I have been working with horse rescues throughout the United States for the past year. It all began after our beloved Missy crossed the Rainbow Bridge (read Missy's story below). Missy's mother CC became very depressed, refusing to eat, drink, or come out of the barn. She stood for hours on end with her head to her knees. I feared that she too would cross the Rainbow Bridge. In an effort to save her, I began searching for a companion for her. I came across a site called Equine.com and posted an ad looking for a free companion for her (the vet bills from trying to save Missy were over $800 and I knew that we would never be able to afford to buy a horse. I was hopeful though.) The first person that answered me was desperate to help a horse that she knew. He was a lesson horse who was in danger of being euthanized because he could no longer jump and fulfill his responsibilities at the stable. The only problem was that he was in Michigan. I began researching transporting options, knowing that most likely I would be unable to afford to bring him to South Dakota, where we lived at the time. That is what led me to find many horse rescue sites on yahoo groups. I explained my situation and asked for advice. I was overwhelmed with the response. After emailing all the transporters suggested, I knew for a fact that I would not be able to take this horse. I was able to convince the stable manager that if she would just give me some time, I would find a home for him. She agreed and the search began. I sent out hundreds of emails about him and found several people willing to take a look at him. It was then that I learned that there are some people who want what is best for a horse. They requested that I send pictures of my mare and of where I lived and I did. They put up a donation form and raised the money to send him to my home. Fleet joined our family October 2006. Another family emailed me about their mare and we emailed several times and eventually met. Their mare, Misty, also joined our family in October 2006.
I felt as though I needed to help the rescues that I met through the yahoo groups. I continued to read the emails sent and to try to find a way that I could help. What I began doing was keeping a list of horses in need and of people looking for horses. I was able to watch for people who were searching for horses that fit horses that had come through the emails. I offered to send these lists out to the rescues and yahoo groups. I eventually realized that it would be better to have all the information located in one place where it was easy to access at any time. The rest, as they say, is history. My family website eventually became too small for all the information that I wanted to put there. That is when I decided to create Missy's Hope Equine Rescue Resource.
The Chey/Anie Project came about when I met Cheyenne and Annie at auction. I had never seen horses in such horrible condition. My heart broke as people laughed at them and acted like it was okay for horses to be neglected like that. With the help of a local rescue, these mares were given a chance at life...in turn they changed my life. I watched their struggles and their valiant efforts to overcome all they had been through. I saw their loving spirits and their determination. The only thing they lacked was the proper medical equipment to help them survive. No one in our area (or many of the surrounding states) had a sling designed specifically for equines. While this type of sling may not have helped Annie, it would have at least given her a better chance. Cheyenne was placed in a cattle sling in desperation and it didn't help like it should. After losing both of these mares, I decided that no other horse should have to go through this. That rescues should have the equipment they need for neglect cases like Annie and Cheyenne's. So, I began looking into what was needed, the costs, and trying to raise funds privately to help. I created the Chey/Annie Project to honor these two mares that changed my life so dramatically.
If you would like to see pictures of my family and all of our pets, please feel free to visit our family site at http://thequalsetfamily.freehostia.com. You can also see pictures of our pets if you click here.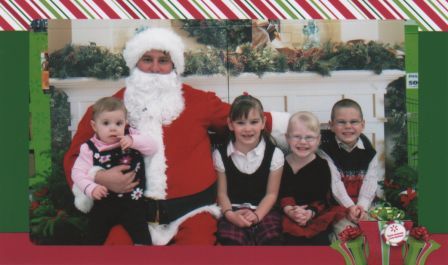 My kids: Delilah (10 Months), Angel (7 years old), Emma (3 years old), and Kody (5 years old).
Missy aka: MissTangerea Topsail (the inspiration for Missy's Hope)
Missy was the third and, most likely, final foal out of our mare Miss Top Sail Pacody (CC). Her family has been in our family for four generations starting with my Great grandfather, Raymond Weatherford Sr. and Missy's maternal great grandmother, Frivolette. My great grandfather gave me Missy's grandmother when I was 3 years old to be my first horse.
Missy was the only surviving foal of her sire Tangerea O'Lena. He was a young stallion, and on his first season and he only bred three mares. Two for his owner, and CC for us. After breeding, he went back into training as a reining horse. He was unable to focus on his job, and his owners decided that they would rather have a good reining horse than a stallion, so he was gelded. Not long after, the two other mares miscarried their foals. CC was the one that the vet didn't think would carry the foal as she had only had two foals prior to that breeding and there was a small amount of fluid in her uterus. The other two were seasoned broodmares with no history of problems. Missy was born on 20 April 2005.
Missy became the inspiration for this organization in August of 2006. Missy fell ill with a high fever early the morning of the 19th and we called the vet. She arrived, examined Missy gave her some shots to help with the fever and instructions for her care. She stayed with us until Missy's fever went down and she was eating and drinking. We watched her continuously throughout the day and things seemed to be better. At 6 pm I was giving my son a bath and happened to glance out the window. I knew at that moment that Missy was colicing. She was laying on the ground biting her stomach. I yelled for my husband and handed him our little boy with instructions to call the vet and get her back immediately. I went out to her and Missy looked at me with pain filled eyes. I put on a halter and immediately got her on her feet. We began walking. Thirty minutes later, the vet arrived. She gave her a dose of Banamine and tried to examine her rectally to no avail. Missy continued to try to lay down every time we stopped. The vet wasn't too concerned as Missy was a yearling and still had plenty of pep. She had another emergency to go to and she left with more instructions and orders to keep walking until Missy was in the clear.
We walked together up and down the driveway until late into the night. Missy seemed better but still had not shown signs that the colic was stopping. Every time we would pause in our walk, she would try to lay down and bite her stomach. We called the other area vets for more suggestions. We were told to continue what we were doing, that Missy was young and strong and most likely would pull through. I took turns with my husband through the night walking Missy until all three of us were exhausted. We talked to the vet and she said to go ahead and let her rest for a short time. We took two hours of break before starting the walking again. The vet came out later in the morning around 6 am. She again tried to do a rectal of Missy, this time she was successful. The news was bad. Missy's stomach, colon, and intestine had flipped entirely to the opposite side of her body. The chance of it flipping on it's own was almost non existent. The worst was that surgery (There was a surgeon who did colic surgeries, but he was over an hour away) would be unable to repair the damage. She encouraged us to give Missy some time to say goodbye to her mother and to give our children a chance to say goodbye. She also hoped as we did that a miracle would occur and that the colic would subside and Missy's organs would flip back to their original position. We agreed that when Missy let us know it was time, that we would euthanize her peacefully and bury her on the farm.
Two hours later, we called the vet back out. Missy had finally given up after a 24 hour battle for her life. While waiting for the vet to arrive, we let Missy spend time with her mother saying goodbye, it was a moment I will never forget. They stood so quietly with noses touching until it was time for her to go. I lead her back to the spot we had chosen for her, a small area with a horseshoe shaped ring of trees and allowed her to lay down on the grass. Our children came out to pet her one last time and tell her that they loved her. The vet arrived after they were in bed to help Missy cross the Rainbow Bridge. She crossed peacefully with her head in my lap. It was 20 August 2006, my son's second birthday.
She was buried on the farm beneath those trees and we planted a small memorial garden in her honor there.
The day before we had to move, I gave Missy's mom, CC, a chance to go where she wanted one last time. She went directly to Missy's grave and stood for a few, then tuned back to me. We stood facing the garden for a while and then she went back to the pasture with her new companions Fleet and Misty.
Meet our Current Horses:
Dreamer
Done Dreaming (Dreamer) is a 16 year old OTTB. He joined our family in March of 2011.
Misty
Misty is a 6 year old Arabian/Appaloosa cross. She is going blind due to Recurrent Uveitis.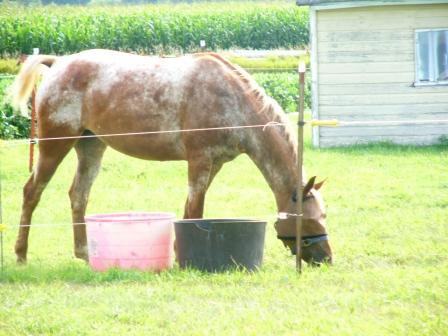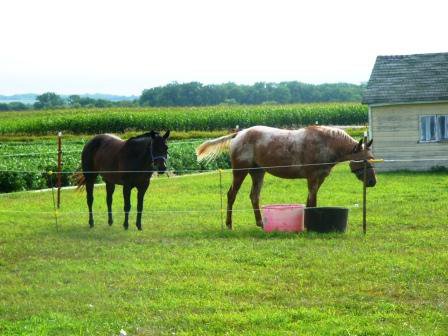 Rose
Rose is an 8 year old Quarter Horse. She is Misty's guide horse.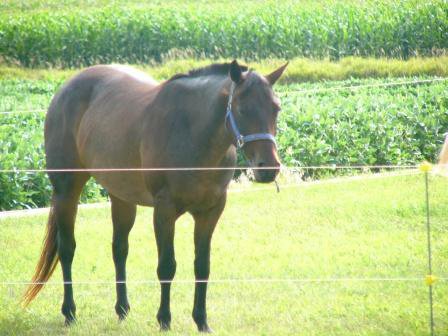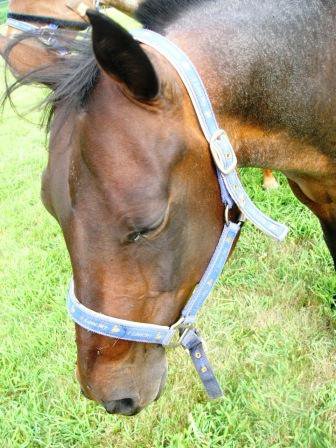 Contact Us:
You can email us at missys.hope@gmail.com
Or you can write us at:
Missy's Hope ERR
c/o Brandi Qualset
84234 539th Ave
Meadow Grove, NE 68752
Other Important Information:
Missy's Hope Equine Rescue Resource and The Chey/Annie Project ARE NOT 501c3.
The funds raised are not tax deductible, most times we raise funds by selling items on Ebay or through generous donations by private individuals that want to help the horses. All funds are publicly accounted for on a regular basis. Taxes are paid out of pocket by my family and none of the funds that come in for the Chey/Annie Project are even used to pay the taxes. Not one single penny comes to us personally, it stays in the bank account until enough funds are raised to purchase the slings.
We are not eligible for a sling of our own (through The Chey/Annie Project) since we are not a physical rescue. If another horse like Cheyenne or Annie comes to us, we will have to see if we can borrow one of the slings we have placed!
If you have any questions, please feel free to email me and I will do everything I can to answer them for you!