This is a list of some of the equine services available across the United States.
Rescue Help Resources:
Free Vaccines for Some Unwanted Horses
by: Press Release
December 09 2008, Article # 13238
Intervet/Schering-Plough Animal Health and the American Association of Equine Practitioners (AAEP) Dec. 8 unveiled the Unwanted Horse Veterinary Relief Campaign (UHVRC), a nonprofit program that will provide free equine vaccines to qualified equine rescue and retirement facilities across the United States.
"At Intervet/Schering-Plough Animal Health, we are committed to helping unwanted horses across America by providing struggling equine rescue and retirement facilities with the equine vaccines they need to improve the health and welfare of the horse," says Cynthia Gutierrez, DVM, Equine Technical Services Veterinarian for Intervet/Schering-Plough Animal Health. "We have chosen to demonstrate this commitment by teaming up with the AAEP to establish the UHVRC to help make unwanted horses more adoptable and the rescues less burdened."
Through the UHVRC, Intervet/Schering-Plough Animal Health will donate equine vaccines to qualifying equine rescue and retirement facilities to provide healthcare so they can rehabilitate, revitalize, and, ultimately, re-home America's unwanted horses.
Equine rescue and retirement facilities will be selected to receive complimentary equine vaccines based on the completed application, compliance with the AAEP Care Guidelines for Rescue and Retirement Facilities, 501(c)(3) tax-exempt status, their need, the potential impact on horses' lives and the professional manner in which the facility is managed.
Rest of article: http://www.thehorse.com/ViewArticle.aspx?ID=13238
Faye
Take sides! Neutrality helps the oppressor, never the victim. Silence encourages the tormentor, never the tormented.
~Elie Wiesel (Prisoner/survivor of Auschwitz)
Volunteer Transporters:
Hello all,
The new website address for ERTN is
http://www.equinerescuetransport.net
There is a new member map so please add yourself so we can help horses get to their forever homes.
I'm also looking for people who would like to help make this project great. We need state coordinators, information coordinators, asst. admin, all sorts of talents are needed, if you are interested please contact me at greyoaks@brightok.net (greyoaks @ brightok.net)
-
Thank you,
Linda Simpson
ERTN Admin
Transporters:
Throughout the USA:
Worley's Hauling
PO Box 1525
Corbin, KY 40702
606-526-9408 office
606-524-HAUL mobile
Throughout the USA:
Black Hills Equine, LLC
Springfield, MO
605-517-1329
I offer deeply discounted hauls for rescues.
A lot of the hauls I do are in the Midwest… but I also make frequent trips to California/Arizona.
My schedule is on my website & clients could refer to the schedule for current routes.
Shannon Snyder
LOTS of references are available!!!
Throughout the Western United States:
Tom Feland Equine and Livestock Transportation
805-937-1219 home
805-478-8331 trail
Throughout Most of the United States:
DnA Ranch and Hauling LLC
Riverside, CA
951-202-1763 or 951-202-9700
Hablamos Espanol!
Emergency Transporting:
Laurie Masters
http://horsemasters.ibusinessdot.com
Transport, overnight, and layover:
R/B Equine Transport
Sanger, TX 76266
940-458-5973 home
503-428-6048 cell
Barb Ruhlman
We are located at Sanger, TX exit 479 Belz Rd on I-35 just north of Ft. Worth, TX.
Heated show Barn-Heated Stud Barn-54 Stall Mare Motel
Large Truck drive for easy in and out. Motel across the interstate.
Triple H Horse Transport
1-800-799-1017 / 405-386-7586
Email: htransport@earthlink.net
We travel east to west coast and some north, south trips. We can haul large loads of horses.
Layovers in Central Oklahoma right off I 40. We have roomy stalls and turnouts for overnight layovers (socialized pets always welcome also) plenty of parking space.
Layover, Overnight, or Layup Option for Transporters:
Homola Horse Haven
Umpqua, OR
541-440-0134
email: Charli_horse@yahoo.com
Wild Horse Mentors:
Lona Patton
LRTC Wild Horse Mentor
IWHBA (Intermountain Wild Horse and Burro Advisor) Level 3 Advisor
For more information on Lona and her work as a mentor, please email her at the address below.
Stables:
Prairie Gem Stables, LLC & Riding Academy
402-426-2882
Linda Brown/Gem Arabians
1439 State Hwy 133
Omaha, Nebraska 68142
Horse Hair Memorabilia:
HORSEFLY CREATIONS
Jennifer Brock
Email for pricing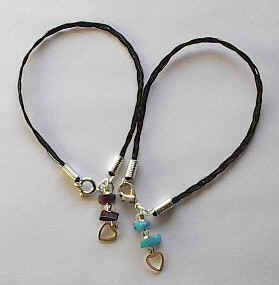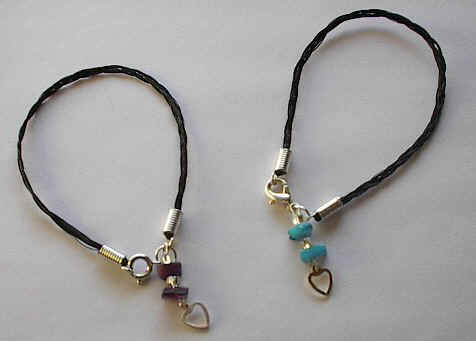 My camera didn't do these bracelets justice! These are two of four that Jen made me from the tail hair from Missy (who Missy's Hope is named for!). I wear mine everyday and I gave my niece (she is 20) one for Christmas and she loves it!
Posted by: "s_keeganart" s_keeganart@yahoo.com s_keeganart
Mon Jan 25, 2010 4:11 am (PST)
Lynn's new venture got me thinking about how my hands are feeling pretty free during these continued dark days. I just wanted to remind everyone about the horse hair jewelry that I make and the proceeds that get contributed back to the rescue.
After you've finished making your purchases from Lynn's site, please visit mine at keeganart.weebly.com to see how you can get not only a great item of jewelry, but also another way to always carry your best friend with you wherever you go. (And when someone asks you about it, it's another chance to talk about your best friend!)
Please remember that I am not exactly a web designer, so if you have any questions or would like to see more of my handiwork, you can e-mail me directly at s_keeganart@yahoo.com
Hope everyone is keeping warm, dry, and well!
Tack Stores:
One Stop Equine Shop
http://www.onestopequineshop.com/
View the great selection of horse bits at One Stop Equine Shop, your online horse source. We feature Western, driving, equine and English Bits and only have top quality horse bits available.
Tack "em" Up Consignment and Tack Shop
810-629-3811
103 S. Leroy Street, Fenton, MI 48442
Down Town Fenton at Caroline Street Intersection
Blanket Cleaning and Repairs:
Horse Blanket R & R
Blanket Repair & Recycling
Where Horse Blankets go for TLC and a new life!
elktoid@yahoo.com (elktoid @ yahoo.com) or call Georga at 302 235 2877
· Specializing in waterproof fabrics.
· Blankets are all cold washed and line dried per manufacturer's instructions.
· Uses special soap (non-detergent) that is specifically designed for waterproof fabrics.
LAUNDRY
All Heavy and Medium Weight Blankets $12.00
Light Weight Blankets or Sheets $9.00
Waterproofing
Refreshing waterproofing (light coating) $10.00
Re-waterproofing (heavy drenching) $15.00
REPAIRS
Patches are $5.00 -$10.00 depending on size and severity
Front Buckle with Strap $5.00
2" surcingle straps with hardware $10.00
All Patches and straps are color and texture matched as closely as possible.
We give a discount on laundering or repairs with item(s) donated.
We are located less than 2 mi from the Dover Saddlery in Hockessin De.
Visit us on the web at horseblanketrr.com
PLEASE FORWARD TO ALL YOUR HORSE FRIENDS!
Horse and Pet Supply Stores:
S-N-R Petsupplies
Horse Hotels:
New Horse Hotel In Richmond,Ky.
Posted by: "Ken" kspirithorse@yahoo.com kspirithorse (kspirithorse @ yahoo.com)
Sat Sep 15, 2007 12:03 pm (PST)
There is A New horse hotel In Richmond, Ky for details call 859-369-5384
at the present time I have 6 stalls.I am located 6 miles from I-75 off
exit 90
Land Maintenance, Clearing, Fencing, Manure Removal, Etc.
Covers the New England Area.
Another plug for Rescue friendly NEER supporter
Ed Curtis - land maintenance, clearing, fencing, manure removal, trail
clearing, and sooo much more! 1-508-450-8056
Amesbury Ma, will travel...
Please mention NEER :)
--
Mary D. Martin - MA Rep/Director NEER
www.newenglandequinerescues.com
" We can judge the heart of a man by his treatment of animals." ~ Kant
Reiki:
Subject: Reiki for horses
Reiki for Horses and other animals
Jessie & James
860-857-5841
860-204-9157
Jperkins60@aol.com (Jperkins60 @ aol.com)
Specials for January and February
We come to you!
Sessions for horses last anywhere between 1-2 hours
Each session, flat rate
50.00
Crafts:
My new business, my way to help rescues!
Posted by: "rescueahorse@comcast.net" rescueahorse@comcast.net mlesty
Sun Jan 24, 2010 3:19 pm (PST)
Hi, everyone.
Just a quick note to let you all know about a new business I am doing.
My way to make some extra money to feed my horses and help some rescues I like.
Please visit my web site (no this is not a joke, nor is it dirty.) www.TheHappyHookerVt.com to view the crocheted items I have for sale.
15% of the proceeds will go to help horse and pug rescue.
There are links to the rescues on the home page.
If you have any questions, please feel free to email me.
Thanks for taking a look.
And, please, feel free to forward this to anyone who might be interested.
I will post more blankets as I get them finished.
Lynn Esty
lynnesty@comcast.net
www.TheHappyHookerVt.com
TheHappyHookerVt@hotmail.com
AddMe - Search Engine Optimization
All services are listed as a courtesy only (there is no monetary gain for a link to their site and they are not required to list a link to this site), there is no promise that a service will be listed if an abeyance of favorable references persists.

Links may also be removed if they are not consistently working correctly.