Home
General Information:
Mission and Policy Information
Our Programs:
The Chey/Annie Project Fundraisers
The Chey/Annie Project Accounting
The Chey/Annie Project Future Sling Locations
Rescue Information:
Resources:
Pet Food and Product Warnings and Recalls
Congressional Information:
Letter Writing Campaigns For Horses
There Is A Viable Alternative To Equine Slaughter
Horse Health Information:
Cushings/Insulin Resistance Information
Helping Your Horse Prepare For Being Blind
Articles Relating To Equine Blindness
Miscellaneous:
Searching For Information
This is a page dedicated for owners who are searching for information on special horses. Some may be horses they currently own and would like information on. Others are people who are searching for horses they have sold and would like updates on. Please help if you can.
Alabama:
NR001171 - SEARCHING FOR HORSE Major`s Pride, AL
http://www.netposse.com/view_report.asp?reportid=1171
In March of 1982, my family donated Major and two registered appaloosas to the Girls Ranch in Tallapoosa County, Ala. We were told they'd receive additional training, and that we'd have first option to get them back. Neither were true. The filly died shortly thereafter, and the mare and Major were sold to a horse dealer. I located the mare in Equality, Ala. A nice older man had bought her, but she was in bad shape. When I called & asked the dealer about Major, he didn't remember him. I don't believe that. My worst fear is that Major died at his barn (which I'd heard was really awful) or he was shipped to slaughter. I want to find him and either know that he is in a good home or buy him back so he can live out his years with me as I once promised him.
Arkansas:
NR001661 - SEARCHING FOR EQUINES Latina Amiga Del Cumbre, Rayna Ann de Piasa, AR
http://www.netposse.com/view_report.asp?reportid=1661
Illinois:
Hi! I was hoping you could list my lost horse on your website? If so, here is her information. I can send a picture as well
Lost horse. 20+ yrs. old QH mare with upside down triangle on left shoulder, 14 on left hip, and 1,8 on left under tail, 2 on right. small star. pretty bad sway back not as visible in pictures. Was free leasing in Nashville, Il. was suppose to get her back but the people sold her without my knowledge. Please let me know if you have seen her! Just want her safe!
casey lawson calawso51411@gmail.com (calawso51411 @ gmail.com)
More info:
Thank you so much! Unfortunately I was naive enough to not get a written contract and hoped it would be enough to stay in contact with them every couple of weeks. I've already talked to the police department for my county and the county she was in last. I will contact Netposse, I've heard a lot of good about them :) I'm attaching a picture of the mare, Adira.
Thank you again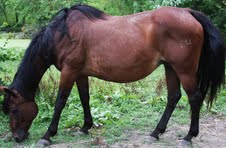 Indiana:
NR000072 - SEARCHING FOR HORSE Beer Run, IN
http://www.netposse.com/view_report.asp?reportid=72
Wanting to know if horse is being taken care of after given to new owner who refuses to update us per our verbal agreement once I noticed him starting to loose weight. The offer of him to come back home if he needs to still stands, no questions asked, I will pick him up.
1.) Name Callie Weist
2.) Contact Information 574-893-7233
3.) Location laotto Indiana
4.) Where is the last place your horse was located? Knox Indiana
5.) How long has it been since you have seen your horse? 5 months
6.) Name of your horse: Changeller
7.) Breed: Half Arabian
8.) Age 12
9.) Height and weight (these can be approximate) 900 15.3
10.) Markings (face, leg, scars, brands, etc: anything that might stand out to people who see her) grey with no markings.
11.) Does she have a tattoo or microchip? no
12.) What is her training level? (broke to ride, etc)
13.) Does she have any special skills or disciplines that would make her stand out? (Kid broke, barrels, jumping, etc)
14.) What were the circumstances in which she left you? (Sold to private buyer, sold at auction, leased but never returned, etc).Free lease with the return if he did not work our
15.) Are you working with a local police department (if he/she is missing due to a broken contract or was lost or stolen)? Not as of yet but will be
16.) Have you contacted Netposse.com? No
17.) Any other information that you think would be helpful to locate her? He was giving to a "trainer" in Indy because he was "crazy" he has been in 5 arabian horse shows and placed in the top ten in all of them. So I dont think he is to crazy. He was under weight when he came to me I free leased him aganist my better intrest to a " friend" and she gave him away after she unsafely put weight on him.
18.) Pictures. Pictures from the front, back, and both sides are the best. If you can, also find pictures that highlight any special characteristics. I only have his under weight picutres. He is grey with a lovely head and prefect arabian confromation.
Iowa:
Stormy is 7 yr old Arab. He was taken to Kalona, IA Sept 5. He has 4 white socks and blaze.
I was told he was purchased by an Omish man.
I am trying to locate this horse.
Tricia Buskirk
triciabuskirk@yahoo.com (triciabuskirk @ yahoo.com)
Kentucky:
Dear members of HERS, I am trying to locate the offspring of my beloved Standardbred, Hebejebe Bluegrass. I want to get the word out to rescues just in case any of them are brought in. Below, I am listing the names of her offspring just to help identify them if they are still called by these names. If you do get any of them in I would be grateful if you would contact me immediately so we can set up immediate transfer, adoption or whatever process is needed for me to bring them home to my Sanctuary. Thank you so much for your time and attention and any help you can give to help me find these horses. Hebe's last colt is still owned by Dr. Luel Overstreet and will not be sold but these have all gone elsewhere. If you have other rescues outside of HERS I would be grateful if you could send this to them.
--
Hezaumpn Bluegrass
--
Hifive Bluegrass
--
Havahapy Bluegrass
--
Hu K Bluegrass
--
Hervette Bluegrass
--
H R C Bluegrass
--
Hotrox Bluegrass
--
Hugogrl Bluegrass
--
Hana Bluegrass
--
Huznxt Bluegrass
--
Hammurbi Bluegrass
--
Hunyhush Bluegrass
--
Hsingdig Bluegrass
--
My contact info is:
Stacey McCord-Crooks
Cheyenne's Hope Farm Sanctuary
5793 State Route 145
P.O. Box 25
Corydon, KY 42406
270-823-2321 (my cell)
270-860-2761 (Husband's Cell – Tracy)
270-826-5802 (Mom's Home – Wanda)
270-860-1821 (Laura Klutey – Sister Rescue Partner)
Email: staceymccordcrooks@yahoo.com (staceymccordcrooks @ yahoo.com) – this one comes over my phone
Facebook: Cheyenne's Hope Farm Sanctuary
Maryland:
New Jersey:
missing horse
My son's horse went missing from her pasture just before Labor Day last summer. She may have wound up at the Camelot Auction. Could you please look at this flier and see if she looks familiar and keep your eyes out if you should see her. We are very heartbroken and worried for her. Thanks so much. Karen Brewer
At the time of this photo, Aurora was pregnant. When she was taken, she was much thinner and more weathered looking. She has scars in both stifle areas and had no shoes when taken.
4kbrewer@gmail.com (4kbrewer @ gmail.com)
973-697-1205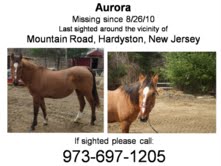 My friend who transported Caramel for me sold her dear, sweet, gentle, old horse to a family with a kid. (She needed the money to pay insurance bill) She got a call from the people last week, blasting her because her horse "bucked" the kid off. Sorry, I'm not buying it, I KNOW the horse.
Anyway, they threatened to take the horse to auction if my friend couldn't come up with the $500 they paid her. She had friends at NH yesterday, horse wasn't there. Asked if I could post the horse's pic so people could keep an eye open for her.
She's an old paint with a "smushed" side of her face (from birth)(I can't tell in the photo, just repeating what the former owner told me).
Former owner CAN NOT take her back - no money, just lost half her income. She just wants to make sure her horse ends up in a good place.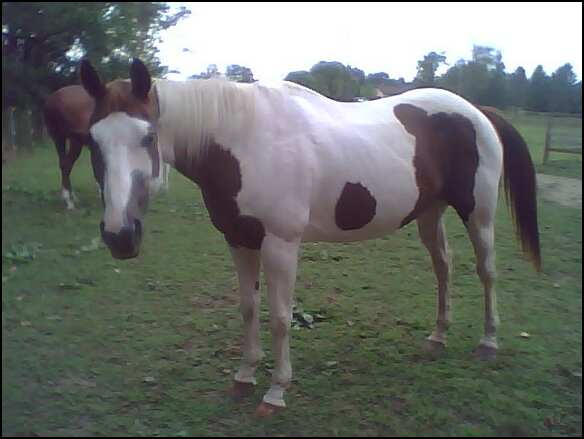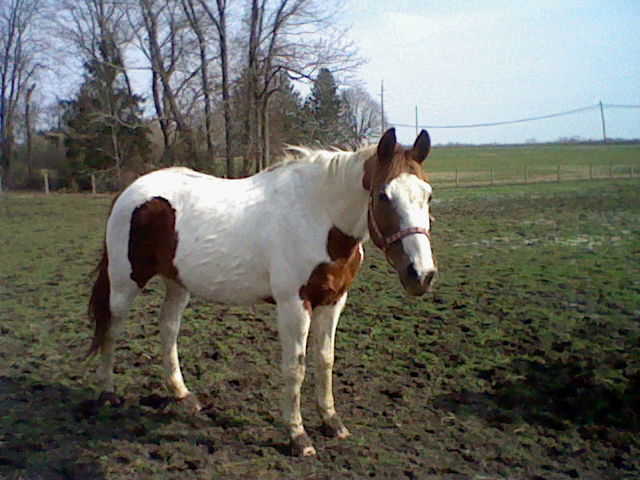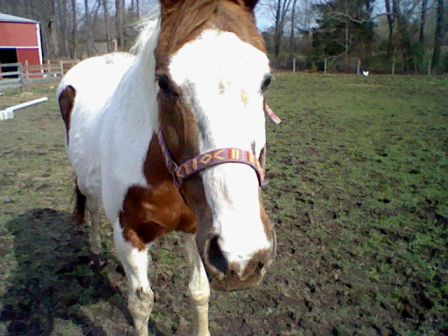 We are horrified & completely disgusted to learn that one of the Camelot rescue horses we pulled & placed with a family was given to a dealer to sell because the family wanted a "quieter horse". The dealer dumped him at Harkers auction sometime in the last 2 weeks. I do not know how to post pictures here, but I have a picture & video links of Beau on our website foxridgefarm.net on the "NEWS" page.
Beau is VERY easy to spot due to his unique appearance. I am pleading with anyone attending ANY auction to keep an eye out for him. Here is his description: Palomino Paint gelding, 6 yrs. old, 15.3 hands, **FACE IS SEVERELY DISHED ON THE LEFT SIDE** This is VERY noticable, and hopefully the saving grace that gets him back to us. He has what looks like a heart marking on his right side that is laying sideways, though this may be covered if he is tacked up. His eyes are a very light brown.
I have NO further details, not even a date that he was run through Harkers. I also do not have the dealer's name or location... I found an ad for a horse that sounded like our Beau, so responded to it and asked some questions.... This dealer DID confirm the name of the lady that we placed Beau with as being the owner, so we know beyond a doubt that this is our boy! This dealer also told me that he sold to a private person, though he may have just said that to calm me down.
PLEASE take a moment to view his videos... maybe someone will spot him and remember he's got people looking for him that love him very much. Thank you.
foxridgefarmllc@aol.com (foxridgefarmllc @ aol.com)
(973)-764-2445
Ohio:
I am so frustrated and sick and just grasping at straws. How can there be such cruelty. I feel so helpless and just want to be able to do something, anything. Let me tell you about Brite. He was a lovely chestnut thoroughbred, boarded in my facility for many years. With the downturn in the economy, his owner fell upon hard times and had to find a new home for Brite. She could no longer afford to keep him. She, like many others, was desperate to find a kind person with a decent home and surroundings for Brite and so when she came across the ad on Craigs List, a lady searching for a pasture partner for her lone horse, she was elated and called immediately. The person running the ad wasted no time, and came out on the pretense of taking Brite to a good home to be well-cared for and to be a pasture mate for another horse. The nightmare began. He never went to any new home, we don't know where he went. We cannot find the person who picked him up, who fed us lies. We are only left with our image of that sweet horse climbing into that trailer, trusting us completely, the horse we will probably never see again. Is there anyone who can help, anyone?? We are desperate to find this person. I want to stand in the middle of the busiest intersection and scream out a warning to all those involved in any manner with horses. These people are out there ... BEWARE!
More info:
Hello dear Brandi ... thank you for responding to my recent email on Brite Mind. I will answer your questions as you listed them:
First, the person took Brite on Wednesday, June 9th.
Second, we are located outside of the small town Kilbourne, Ohio, which is just a few miles from Delaware, Ohio.
The lady who picked him up used the name of Ann B. There was no contract that I am aware of. I will ask Connie, a friend who is helping in this sad situation about Brite, to send you a photo of him, as I know she has several. Brite was an off the track thoroughbred who was ridden both Western and English and was happiest trail riding. He had no health problems and was in excellent condition, with a great disposition.
Again, thank you so much for taking an interest in our plight and we all need to work together to stop this cruelty. Thank you. Jo and Larry W.
More Info:
Hi Brandi,
Attached is a photo of Brite. Brite's tattoo number is: W10610. His description is light bay gelding, 16 hands, double horizontal cowlick above eye level. Cowlick behind poll on both sides, no white markings.
Let me know if there is anything else we can do!
Thank you!
Thanks,
Connie S.
If you have any information about Brite, please contact Larry at: ljlfarm@verizon.net (ljlfarm @ verizon.net) or Connie at: olentangymom@yahoo.com (olentangymom @ yahoo.com)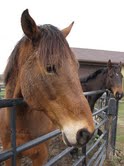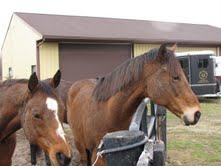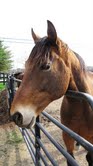 Update:
NetPosse.com Alert:
EQUINE INTERNET SCAM?
www.netposse.com
TB Gelding missing in possible Internet scam
Incident date: June 9, 2010
Report submitted to NetPosse.com July 12, 2010
Location: Mountain Sunbury, Oh
County: Deleware County
Owner:Jill Walls
Contact Owner: See link below
NetPosse.com ALERT OH: Brite - Bay TB Gelding - Disappeared in Possible Companion Horse Internet Scam - June 9, 2010 - Delaware County
Brite involved in possible Internet horse scam.
A woman looking for a companion horse took Brite on trial through a Craigslist ad and then disappeared with the horse. We have reason to believe this woman has obtained horses from others in this same manner. She then takes them to auction at either Sugarcreek or New Holland.
Are you missing a horse in this manner who is known to drive a dark blue Ford pick-up with an old red step-up livestock trailer.
This is being considered theft by deception.
a.. Agency Report Date: June 23, 2010
b.. Agency Report Case No: 10-003816
c.. Agency: Delaware County Sheriff's Department
LINK to Brites webpage. Read more info here.
http://www.netposse.com/stolenmissing/BriteOHjun2010.html
YOU CAN HELP: Print flyer and post in your area, send info to your friends and ask them to do the same, post on twitter, facebook, craigslist.
ALWAYS INCLUDE THE LINK below so people can print the flyer and read updates later.
The July NetPosse.com Alerts & Newsletters are sponsored by trainer Mike Branch of Fly B Horsemanship. Mike's motto is, "Leadership through trust, partnership through leadership; trust, partnership, and leadership through; love, understanding, and communication." Mike is dedicated to educating the public on the trainability of the "Wild American Mustang" Visit Mikes site today and thank him for supporting NetPosse.com. Check his schedule and see if he will be near you soon. http://www.flyingbhorsemanship.com
Update Profile/Email Address | Instant removal with SafeUnsubscribeT | Privacy Policy. Email Marketing by
Stolen Horse International Inc. | NetPosse.com | PO Box 1341 | stolenhorse@netposse.com | Shelby | NC | 28151
FW: [horses_for_sale] Looking for "Squirt"
Posted by: "AnnMarie Cross, Crosswinds Equine Rescue" lists@cwer.org amcross
Thu Aug 12, 2010 6:38 pm (PDT)
Perhaps folks can help carol find this horse.
Her email is
Carolgeyer59@yahoo.com (Carolgeyer59 @ yahoo.com)
Sent: Thursday, August 12, 2010 12:20 PM
To: horses_for_sale@yahoogroups.com
Subject: [horses_for_sale] Looking for "Squirt"
this isn't about a horse for sale, but I hope someone has bought or adopted
him, and can tell me where he is, and if he is still around. I am seeking a
horse I raised, and don't have now. He is an unregistered
Andallusian/Thoroughbred/Quarterhorse cross gelding, blue roan, brown face
graying out, small spot on forehead, two white socks (one front one rear),
with a scar on his left hock from a injury caused by a hot wire. He was born
on May 24, 1984 ( which makes him 26, I know) but he was in pretty good
shape. He stands 15.2 to 15.3 h.h., and was born and raised in the
Sugarcreek Township/ Bellbrook Ohio, area. If you know anything about him,
please let me know, as we miss him, and just want to know if he is still
among the living, and if he is lived and cared for. Thanks! ( He also had a
palomino Quartertype buddy ,named "Chili").
Oklahoma:
Oregon:
1.) Name: Susan Loske
2.) Contact Information: (503)899-0353 24/7 or sueboo13@hotmail.com (sueboo13 @ hotmail.com)
3.) Location: 24310 HWY. 99 E. Canby OR. 97013
4.) Where is the last place your horse was located? In Hubbard Oregon, where she was boarded
5.) How long has it been since you have seen your horse? 4/1/07
6.) Name of your horse: "Sarah" (Tardees Showgirl)
7.) Breed: Quarter Horse
8.) Age:
9.) Height and weight (these can be approximate): She is aprox. 14.5 hands and 1,200 Lbs
10.) Markings (face, leg, scars, brands, etc: anything that might stand out to people who see her): Her markings are a star, strip,and,snip.
11.) Does she have a tattoo or microchip? no
12.) What is her training level? (broke to ride, etc): I had started her under saddle.
13.) Does she have any special skills or disciplines that would make her stand out? (Kid broke, barrels, jumping, etc): I even started barrel training on her.
14.) What were the circumstances in which she left you? (Sold to private buyer, sold at auction, leased but never returned, etc). The people from Monmouth, OR. Who bought her came out with their young daughter and she rode "Sarah" bareback.
15.) Are you working with a local police department (if he/she is missing due to a broken contract or was lost or stolen)? no
16.) Have you contacted Netposse.com? no
17.) Any other information that you think would be helpful to locate her? I do have her registation number. Her parent`s registered names and numbers. And I have her grandparents and great grandparent`s registered names. Let me lnow if those would be helpful. I also have the name,address, & phone number of the people that bought her. I have contacted them a few times, and the lady promised she would get me the info on the people whom she sold "Sarah" to, in mid 2008. I wasn`t sure how much info we could put on the web. So let me know if this other info would help you.
18.) Pictures. Pictures from the front, back, and both sides are the best. If you can, also find pictures that highlight any special characteristics. (Note from Brandi: Susan didn't have a digital camera when she owned Sarah, so she is trying to find some photos to send me of her.)
Pennsylvania:
Hello my name is Halle, my family just recently had to run a horse through the Monday December 19th Sale. I was just wondering if you saw him, I was told by the lady who trailered him that he was bought by an older couple as a companion horse. He was a 17, 17.1 Hand Bay Thoroughbred Gelding, in his 20's had a little bit of white on one of his back ankles I do believe his right, had 2 bumps on the front of his head. I'm not sure what his hip number was but I do know that he was rode through. Please Please Please email me if you know anything. Here is a picture for reference.
Thank You for you time
Halle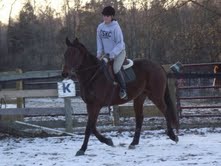 Hi, I saw your site, and would like to ad, a mare I am looking for.
Lefty is a Black 1994 AQHA mare. Her Registared name is Perfectors Shadow, her sire was The Perfector, and Her Dam was Becky Lou Bar. She probably didn't get much bigger then 14.2 give or take. I sold her as a 2yr old and she was only around 14hands. She was all black, with her left cornet band white, and a small white patch on her nose. Only white hairs, no pink skin under it, so it may have changed. She was very well built and such a lover as a young horse. I watched her be born, and then purchased her. I would love to find out what happen to her. I miss her very much. I am not looking to talk the owners into selling her, just want to see if she is ok. Her last known owner according to AQHA was in Waynesboro, Pa. I live in Chambersburg, Pa.
this is the only pic I have of her. She was about 6months old here, and her father is in the background.
thanks
Cherie Dine
240-388-0229
myminiaussies@aol.com (myminiaussies @ aol.com)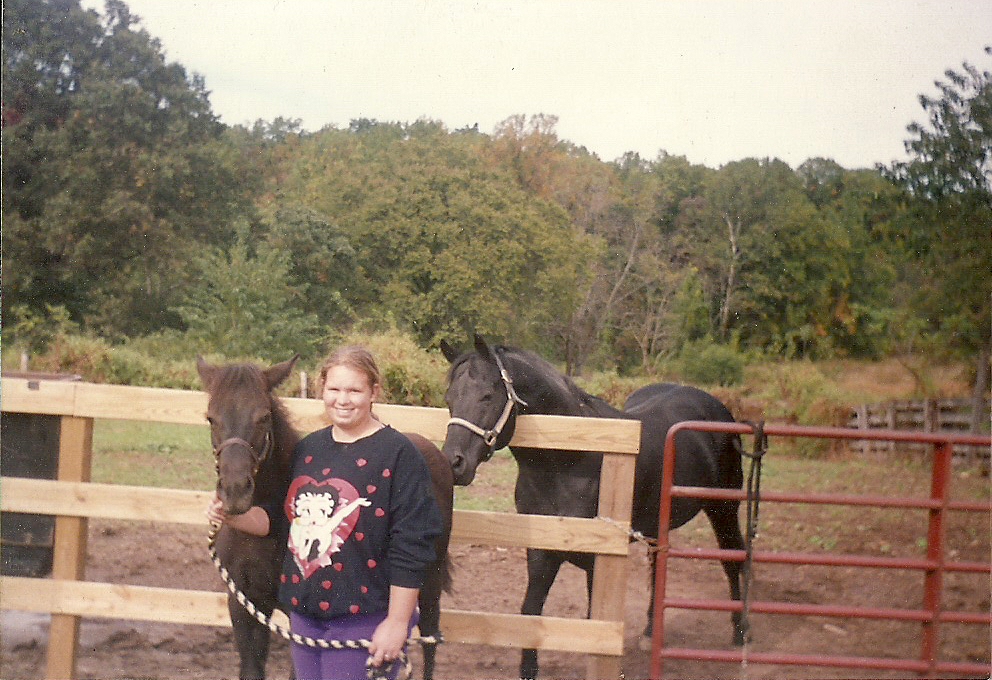 1.) Your Name: maryann omalley
2.) Contact information: 301 491 0661,,804 west washington street, hagerstown md 21740
3.) Where you are located? hagerstown md
4.) Horse name: lyric
5.) Breed (You said Morab pony?) Is he registered? not registered
6.) Age (approximate is fine) 8,,,
7.) Description (height, weight, markings (face, legs, etc), any scars or identifying marks) 14 ,1 hands, sorrel, white blaze, flaxin chrome mane. sometimes goes completly flaxin in winter, blaze goes off to the right ,, has a slight w curve, on the side, has 4 white soxs, but not to the knee, has a pull on the left hip.. old training injury,
8.) Any brands? Was he microchipped? no
9.) What training did he have? (Any specialties that he did that would increase the chance that he might have been bought by a private individual or a rescue...for example: kid broke, jumper, drives, etc)he was trained western and english,, rode in halter and bareback. needs experienced rider.
10.) How long has it been since you have seen him? 2 years memorial week
11.) Where was he last located?,, he was kept off exit 16. pa..
12. ) Additional Information:
lyric became missing, i free leased him out, a woman from my area. she conned me, saying she was a social worker, had a t/b from rescue, willy, lyric was to small for me, id had him from a almost 2 year old, he did not grow tall enough, she offered to free lease him. so he could be ridden daily,lyric was just coming off a years rest from a hip injury. she had leased a barn in pa,, off exit 16.almost directly off the interstate exit. in the coming months after i leased him, i would stop out, she started calling me for hay money, then me realizing, she could not afford to lease him. i told her i was going to pick lyric up.
she literally went crazy screaming at me saying no i was not going to pick him up. i went out over the next few weeks to get him, he was gone, so was her other horse, i knocked on the door of the house in front of the leased barn, asking about the wereabouts of the horses. the man said she took the bloned maned horse to auction. meaning lyric. i went to her apartment, she had moved.
i saw a man that i knew as her boy friend, he said she sold lyric to a theraputic riding barn, and would not give me her wereabouts., i did call the police, they would not get involed, saying it was a civil matter.
ive posted on even craigslist looking for lyric, ive contacted many rescues, i called thurmont auction, spoke with the owner, he was suposse to get back with me, he called me back. i constantly check rescue websites,
she had a rescue throughbreed named willy, he was at the barn with lyric, i have tried locating the rescue he was from,, thinking mabey, she took lyric back there with willy. no luck. i had no written contract with her,
just a few reciepts, for grain and hay i bought. but his coggings was in my name. and,all his previous vet records. i do not believe a theraputic barn bought him,, i called the pa theraputic riding centers, they had no information on him. im hoping she did not take him to the pa auction house, were the meat dealers go.
many of the rescues contacted me from my crags list add of a missing pony, they tried to help. im giving it one last shot. i know 2 years seems like a long shot now, but something tells me to press on looking for him. il forward another email of what pictures i have left of him, my computer had crashed, i had to try to gather more pictures of him from friend sourses.
i will send you all i have,, lyric tends to look different into every season, chestnut in the summers, to deep sorrel in winters, and his mane goes from flaxin with chrome to deep flaxin, in very cold winters. his coloring is like a mood ring of weather. thank you, maryann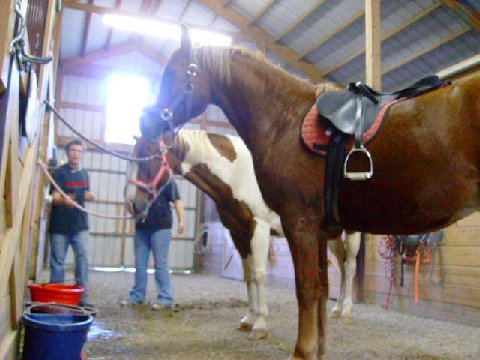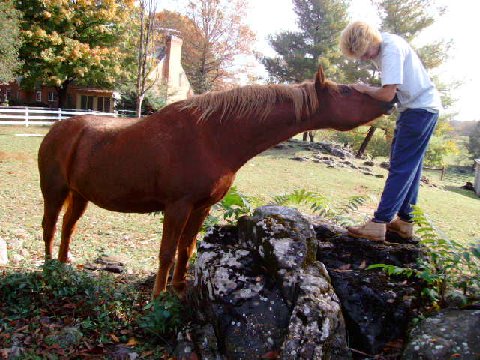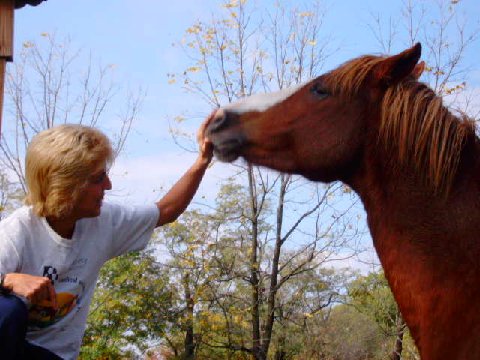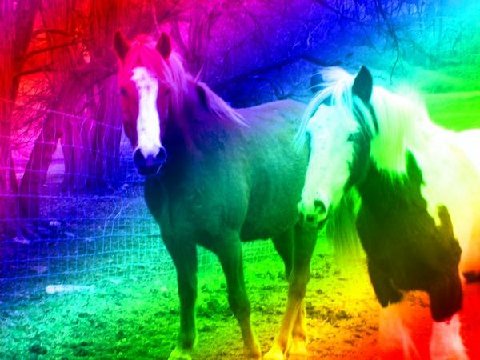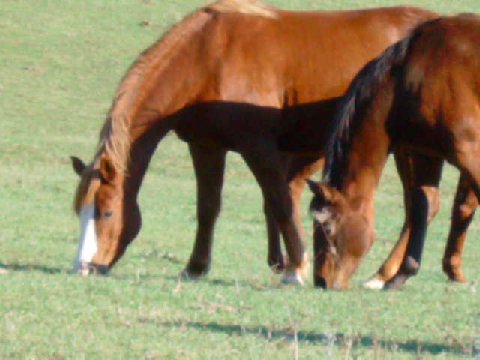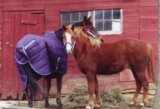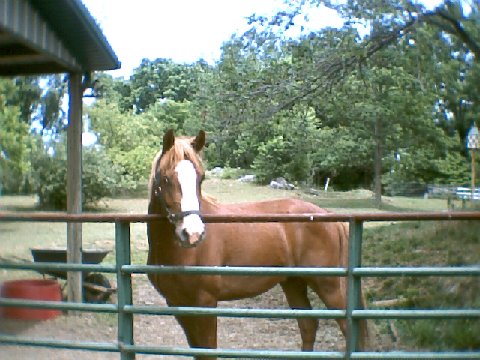 South Dakota:
If you attended the SD Horse Sales in Corsica, South Dakota, on 17 May 2010, please contact me! I am searching for two young geldings that were sent through the loose ring on that day.
Dusty:
Denny:
Email me at: missys.hope@gmail.com
Tennessee:
NetPosse.com Searching for horse in TN: please help find Star. She was supposed to be returned if she didn't work out. Instead she was supposedly sold at the Wilson Arena in Cookeville, TN, last April.
NR001750 - SEARCHING FOR HORSE Star, TN
http://netposse.com/view_report.asp?reportid=1750
Vermont:
Hi, Was looking at your web site. Wondering if you might be able to help me. I am trying to locate a 17 H, gray with white mane Percheron gelding that may have been sold in VT recently. He was very special to me and I would like to locate him and try to get him back. The man who had him kept him around Manchester and was supposed to let me know if he ever got rid of him and its looking like he didn't. If you come across him or if you know of any horse auctions in the northern vt area, it would be awesome if you could let me know about them. Am hopeing he wasn't sold for meat. Thank you very much. Jamie

Hi Brandi,

Thank you so much for being willing to post pics and keep an eye out. I really appreciate it. I found out today that the horse may have been resold up to a year ago and could be anywhere. I sent several pics of different views. It will come from a different email than this one: either ladybriarpatch@gmail.com or jamie@olearychiropractic.com My phone is 518-253-6156 if anything comes up. Again thank you so much. I have Marc's sister still and just loved him. It would be so awesome to see them playing again.

Jamie
Thank you so much Brandi for first caring and trying to help me.
I'm sending several views from different angles. Just got your
message this am. Will send also to the other email you suggested.
My phone is 518-253-6156 if you hear or see anything. Thanks again.
Jamie
You have been sent 11 pictures.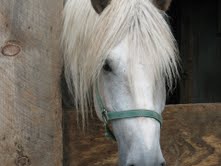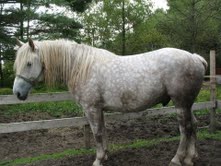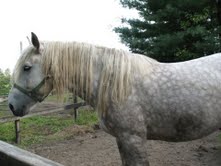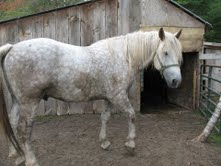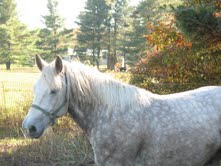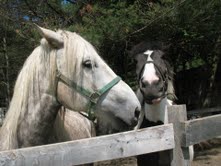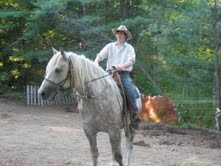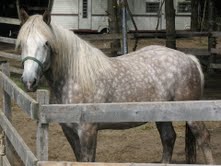 Washington:
NR001111 - SEARCHING FOR HORSE CASSIOPEIA AZRAFF, WA
Sold to a girl that was living in Rockford WA. USA. she never change papers still in my name. She moved and lost track of the horse. would like to know even if she has passed away.
http://www.netposse.com/view_report.asp?reportid=1111
West Virginia:
SEARCHING FOR A TB MARE....Hard Climb
Posted by: "AnnMarie Cross, Crosswinds Equine Rescue" lists@cwer.org amcross
Sun Nov 14, 2010 4:34 am (PST)
PLEASE forward, per Danielle's request. You can reach her directly at danio
(at) qx.net
-----Original Message-----
From: danio [mailto:danio@qx.net]
Sent: Saturday, November 13, 2010 7:54 PM
To: amc@cwer.org
Subject: thanks for forwarding this!
I am looking for a TB mare named Hard Climb (b. 2005) that last raced at Charles Town in Nov '09. she is dark bay with a white star and no socks. Tattoo number I15508. she was owned by Robert Wolford and
trained by Robert Bir. Although I told them multiple times that I would always have a home for her, they did not contact me and claim to have given her away 3 months ago to a guy-maybe from Cumberland MD
or Berkley Springs WV. I realize there is a good chance she went to the killers-but I am contacting every rescue operation i can find on the slim chance that she is still alive.
please contact me if you have any information, or would like a photo of her
thank you,
Danielle Obert
danio@QX.net
International:
Canada:
NR001420 - SEARCHING FOR HORSE - Bob,
http://www.netposse.com/view_report.asp?reportid=1420
Location: Midland (Simcoe County), , L4R 3X2, Canada
Incident Description: I had loaned my horse to a friend. She separated suddenly from her husband and herself loaned him to someone in Collingwood Ontario, I am unable to get in touch with my friend and wish to locate my horse.