The Chey/Annie Project was created in honor of two special horses who were bought at an auction in Oneill, Nebraska.

Meet Annie:

Annie was the first mare that we bought at the auction. She came into the ring and the kill buyer for Mexico and all the other people in there laughed at her. She was extremely underweight and malnourished. She was pregnant and so very sad. Lynn had Jana bid $25 for Miss Annie and they won her at that price.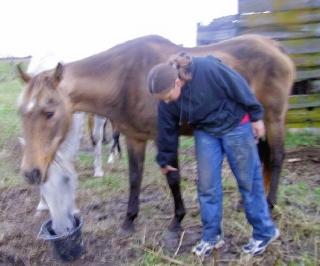 Annie at Phoenix Rising Horse Rescue the morning after the auction.
We learned from her paperwork that Annie was 22 years old. We weren't sure at first what to name her. Nothing we could come up with seemed to fit her. So I talked to a friend who is an animal communicator. I asked her to reassure the mares that we had bought that they were safe and to ask her what she would like to be called. She told us that this little mare didn't care what she was to be called because she had already had so many names. At that moment she said that she felt a presence of a lady who had passed on. The lady told her that the mare had once belonged to her grand daughter and that she had been called Annie. That is how she got her name.
Miss Annie was with us only a few days before she miscarried her baby. A beautiful filly that was perfect in every way. Even before the miscarriage we knew what her name was to be. Grace.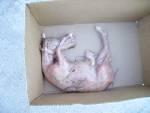 Grace
Annie perked up for a short time after she miscarried Grace. She was moving around better and while still sad, seemed just a bit happier. Then one day her back legs went out from under her. She was unable to get up. At her age and her condition, there was nothing more that we could do to especially without a sling. Lynn and her family helped Annie cross peacefully where she is now running free with her baby.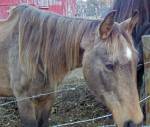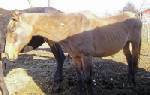 These pictures were taken of Annie on the 8th of Novemeber.
We do not know if a sling would have helped Annie. It may or may not have, but having one available would have at least given us a few more options.
Meet Cheyenne:
I met Cheyenne for the first time in a holding pen outside of the auction house. She was tearing into the hay there as if it was the first good meal she had eaten in a long time. Standing there looking at her, I could believe that it was the first good meal for her in a long time. Cheyenne was extremely emaciated. Probably around a 1.5 on the scale rescues and vets use to determine body condition. (Not sure what the scale is or what that would look like? Go to the Slide Show Gallery. There is a slide show there that has pictures and descriptions of horses at each number on the scale 0-5). Cheyenne also had a bad knee and a stomach that looked as though she was pregnant.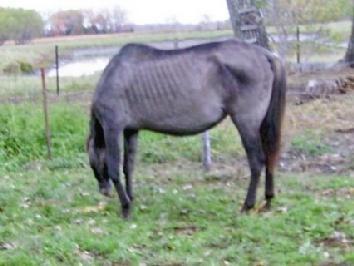 Cheyenne the morning after the auction.
We knew that she would face a horrific fate if we were unable to buy her. She would either return to the owner who had neglected her or she would be on a free trip to Mexico when her owner begged the kill buyer in attendance to take her.
Cheyenne was scheduled to be one of the last horses to go through the ring. We had already bought two mares, a jack donkey, and four weanlings at the auction. We were out of money and really didn't have room in the trailer for one more mare. We got the trailer and were waiting on the auction house workers to find all the horses (and donkey) that we had bought so we could load up and take them back to Phoenix Rising Horse Rescue. None of us could stop thinking about that little mare. It seemed like fate when we found that Jana, one of the rescue volunteers, still had five dollars. That was all that was left between all of us there, but we decided to give it a try. I raced back into the auction building and stood next to the pen and three horses went through the ring. Then she walked in. The building went silent. No one would talk. No one would look at that poor mare. The auctioneer started his spiel, but no one would say anything. He had started at $25. He gave it another minute to try to get anyone to bid at that price. Then he stopped. Before he could say one word, I bid that final five dollars. He looked at me in shock along with everyone else in that room. He tried to get someone to bid higher and no one would. I won the bid on that little mare with just five dollars. I went in a paid for her and the clerk there said that was the lowest price ever paid for a horse at that auction house.
I went out to the trailer to find the worker that was helping us. He was off getting the four weanlings we had bought, so I looked around. Cheyenne was standing in a pen with several other horses, one was a stallion and he was picking on her. Lynn went in with just a lead rope, talked to her a moment, and then used it to lead her out of the pen. Once in the alley way behind the trailer, she let her loose so she could walk in the trailer on her own. She wouldn't do it and turned to walk back down the alley. I was the furthest back and in the center of the alley way, so I spread my arms wide as she walked toward me. I thought she would turn back from me, but instead she slowly walked forward and rested her head against my stomach and chest. I lowered my arms slowly not to scare her and then gently rubbed her ears. I told her that she would be fine and that getting on the trailer would take her to the best life she had known. She looked up at me and stared into my eyes for a moment. We stood there frozen just looking each other in the eye. Then I placed my hand on her neck and she turned toward the trailer. She walked in with no more urging and no more fear.
After bringing her to the rescue, we learned that Cheyenne was just seven years old.
Cheyenne was with us for five weeks before she went down for the first time. Lynn and her husband, Darryl (from Phoenix Rising) didn't have a sling to lift her, so they used two cinches and strong ropes to get her on her feet. That lasted a few days until she went down again. They got her back up and she stayed up for only a few hours that time. The local vet loaned them a sling to get her back up and to hold her up temporarily. The sling was made for cows and was not what she needed. Then the tractor began having hydraulic problems and there weren't support beams in the barn that could hold her. Lynn and Darryl brought her to my home and my barn where we were able to put her back in the sling in the barn.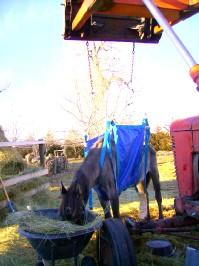 Cheyenne suspended by the tractor at Phoenix Rising.
Unfortunately that night she managed to slide out of the sling. Our neighbor assisted us in getting her back up, but his tractor was too large to put her in the barn, so we suspended her from the center of the doorway. We were waiting on a sling made specifically for horses to arrive from another state as there wasn't one here in Nebraska.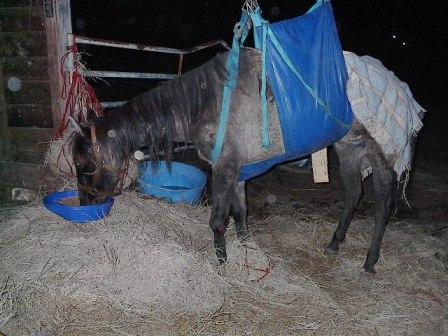 Cheyenne from the left side with her blanket on. Her right side prior to the blanket.
Lynn's friends and boss from work heard Cheyenne's story and began building us a sling that was made more for horses. They had me measure Cheyenne so they could fit the sling especially for her.
It was going to take a week or so to complete the sling. Watching the weather showed us that before we could move Cheyenne into the quonset, we were going to have snow! With cold weather on the way, we set up a temporary shelter for Cheyenne. It was made out of two panel fence pieces, a tarp, lead ropes, and even a few strands of baling twine! The night after I got it up it snowed, just a dusting, but Cheyenne was safe and dry.