Home
General Information:
Mission and Policy Information
Our Programs:
The Chey/Annie Project Fundraisers
The Chey/Annie Project Accounting
The Chey/Annie Project Future Sling Locations
Rescue Information:
Resources:
Pet Food and Product Warnings and Recalls
Congressional Information:
Letter Writing Campaigns For Horses
There Is A Viable Alternative To Equine Slaughter
Horse Health Information:
Cushings/Insulin Resistance Information
Helping Your Horse Prepare For Being Blind
Articles Relating To Equine Blindness
Miscellaneous:
Annie
Annie was the first horse, Lynn, Jana, and I bought at the auction in Oneill, Nebraska on October 13, 2007. She came into the ring and the placed filled with laughter. No one would bid on her, not even the kill buyer who was there for the slaughter house in Mexico. He made it clear that not even the killers in Mexico would want her.

Annie was 22 years old, pregnant, and so badly malnourished that she almost couldn't walk into the ring.

Lynn bid just $25 on Annie and won her.

When we first met her, we were not sure what her name should be. We were all racking our brains to decide what to call her. I emailed a friend who is an animal communicator. I asked her to let the girls that we bought at the auction know that we were going to do everything that we could to help them. That they would know only love and great care for the rest of their lives. I also asked her to find out if there was a name that this little mare would like to be called. She told the communicator that she didn't care what her name was, that she had been called so many things that it didn't matter any more. That is when the communicator was touched by a woman who had passed before. She said that she had known this mare when she was younger and that she had belonged to her grand daughter. She said that her grand daughter had named her Annie. She asked that we rename her that, so we did.

Annie miscarried her baby on the 19th of October. A beautiful filly that we named Grace. She was perfect in every way.

Despite the care that Annie received at Lynn's rescue, the neglect that she had suffered while pregnant combined with her age were too much for her. She crossed the rainbow bridge peacefully with her ears forward on 12 Nov 2007.
Update: 6 Nov 2007: Despite miscarrying her unborn filly (see update below for information on that) Annie is doing better. She has more energy and is just as sweet as can be. She enjoys being spoiled by Lynn's daughters! According to her registration papers, Annie is 22 years old.
Update: 12 Nov 2007: Last night Miss Annie went down. She was having trouble with her hindquarters and couldn't stand. Lynn and her family tried to help her throughout the night, but this morning, Miss Annie let them know that it was time for her to cross the rainbow bridge. She passed peacefully with the knowledge that we all loved her and thought that she was so special. Please say prayers especially for Lynn and her family. Lynn's daughters are devastated at the loss of Annie.
Rest in Peace, Miss Annie! Make sure to meet up with Missy on the other side to help you as you settle in. She will take care of you.
Annie the morning after the auction.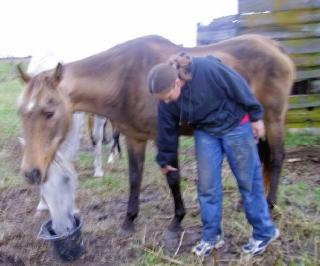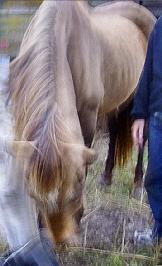 Pictures of Annie taken on 8 Nov 2007.