Home
General Information:
Mission and Policy Information
Our Programs:
The Chey/Annie Project Fundraisers
The Chey/Annie Project Accounting
The Chey/Annie Project Future Sling Locations
Rescue Information:
Resources:
Pet Food and Product Warnings and Recalls
Congressional Information:
Letter Writing Campaigns For Horses
There Is A Viable Alternative To Equine Slaughter
Horse Health Information:
Cushings/Insulin Resistance Information
Helping Your Horse Prepare For Being Blind
Articles Relating To Equine Blindness
Miscellaneous:
Central City, Nebraska Auction Report
6 June 2010
The sale was pretty small, only 17 horses. Seemed like mostly families although I am not sure about #42. It is possible that he was buying for resale. I did see one of the kill buyers from the Norfolk auction there, but I donít believe he bought anything (I donít even think he stayed for the whole auction). Two of the horses were brought in by a young man that I have seen at the Norfolk and OíNeill auctions. I believe he may have bought two horses to train and resale. He also no saled his two horses (I suspect they will turn up at a later, larger auction).
Over all the horses were in pretty decent condition although many were in need of hoof trims. There were a couple of thin, wormy looking horses, but they were not the worst I have ever seen (the two young fillies were by far the worst, but I believe the gentleman that bought them for his granddaughter/daughter will do a good job with them even though they werenít what he came there for (he was bidding on the kid broke horses). After he purchased them, he ran to the local feed store to buy halters, leads, feed, dewormers, etc.).
There were a couple that had lameness issues, but only one looked like it might have been serious enough to prevent riding. There wasnít a single mention of what happened to any of them. I donít believe any of them were close enough to another horse to have been kicked, but it could have happened in the trailer or in the pen. The worst of the group (grey gelding) seemed to walk on his injured leg fine, but it was just at a very odd angle. I donít believe that he would have been ridable, but he did seem pasture sound.
The pens didnít have any water or hay in them. The horses all arrived just before the tack sale which ran first. The tack auction ran for two hours and the horse auction itself ran about the same amount of time, maybe just a bit longer.
I am so glad that I was able to have Jennifer go with me to the auction. She helped me get the descriptions of the horses and to figure out what the final sale price and buyer numbers were. She also acted as a great blocker so that no one would see me taking photos of the horses in the pens as well as in the stands. We missed getting pictures of a few of the horses, but we were able to get the majority of them. I could never have done this without her!
| | | | |
| --- | --- | --- | --- |
| Horse Number | Description | Sale Price | Buyer Number |
| 824 | QH Red Roan Stud. 2 years old. Out of reg mare. Sire? Sound, halter broke, friendly and very calm. Small ding on nose. 14.2-15 hands. See pic. | $160 | #51 |
| 825 | Sorrel gelding. Possibly 5 years old. 15-15.2 hands. Sound. See pic | $175 | #57 |
| 778 | Line back dun mare with zebra striping on legs. 3 years old. Very stout. Halter broke. See pic | $125 | ? |
| 777 | 3 year old mare. Chestnut. Halter broke. Lame on one leg (unsure of reason). See pic | $60 | #1 |
| 776 | 2 year old sorrel filly. No halter. See pic | $65 | ? |
| 775 | Gelding. Halter broke. Some training. Ran loose into ring. A little spooky. Approximately 3 years old. No pic | $25 | #42 |
| 774 | Mini black stallion. Scar on back (right down the center: See pic) Not trained | $55 | #42 |
| 780 | Paint mare. (smallerÖlarge mini size). Not trained. Good shape. Pretty. See pic | $90 | #42 |
| 779 | 3 year old kid broke mini gelding. Guy rode in ring. Very nice pony. (see pic). | $220 | #11 |
| 758 | 4 year old mare. Little green, but trained. Ridden with halter. No pic | $205 | #57 |
| 785 | 11 year old paint gelding. Very well trained. Rode without bridle. Anyone can ride. Big horse. Guaranteed sound (said if buyer wasnít happy they could have full refund!). see pic | $700 bid, but no saled. Wanted $800 | - Buyer that bid on this guy was still interested and might have bought him after the sale. Said he had to call wife to see if it was okay to go that high. |
| 759 | 3 year old gelding. Thin pony. Very tiny (see pic). Gimpy on rear leg or hip, owner didnít say why. Well trained. | $60 | ? |
| 772 | 8 year old sorrel gelding. Nice. Ridden by dad with his kid. Very well trained and very easy going. Guy stood up in the saddle and slid of his rear. See pic. | $420 bid, but no saled. Wanted $550 | -- |
| 766 | 13 year old leopard appy gelding. Used in therapy classes for people. Guaranteed 100% sound. Very nice and calm. See pic | $630 bid, but no saled. Wanted $850 | -- |
| ? | Grey gelding. Big guy. Very, very sweet (I would have loved to have brought him home! He kept putting his nose out to me to be rubbed in the pens in back.) He had swollen area on his nose that included a open wound (about a inch long and maybe a ľ inch wide). He also had an injury to his left hind leg (cannon area). It almost looked like it had been broken and reset in the wrong position. The leg was straight until the cannon bone and then turned in at a strange angle. See pic | $210 | ? |
| 774 | Yearling filly. Very thin, wormy looking. Not broke, but curious about people. (came in with below filly). See pic | $5 | #52 |
| 773 | Yearling filly. Very thin, wormy looking. Very hairy. Not broke. More shy than above filly (came in with her). See pic | $5 | #52 |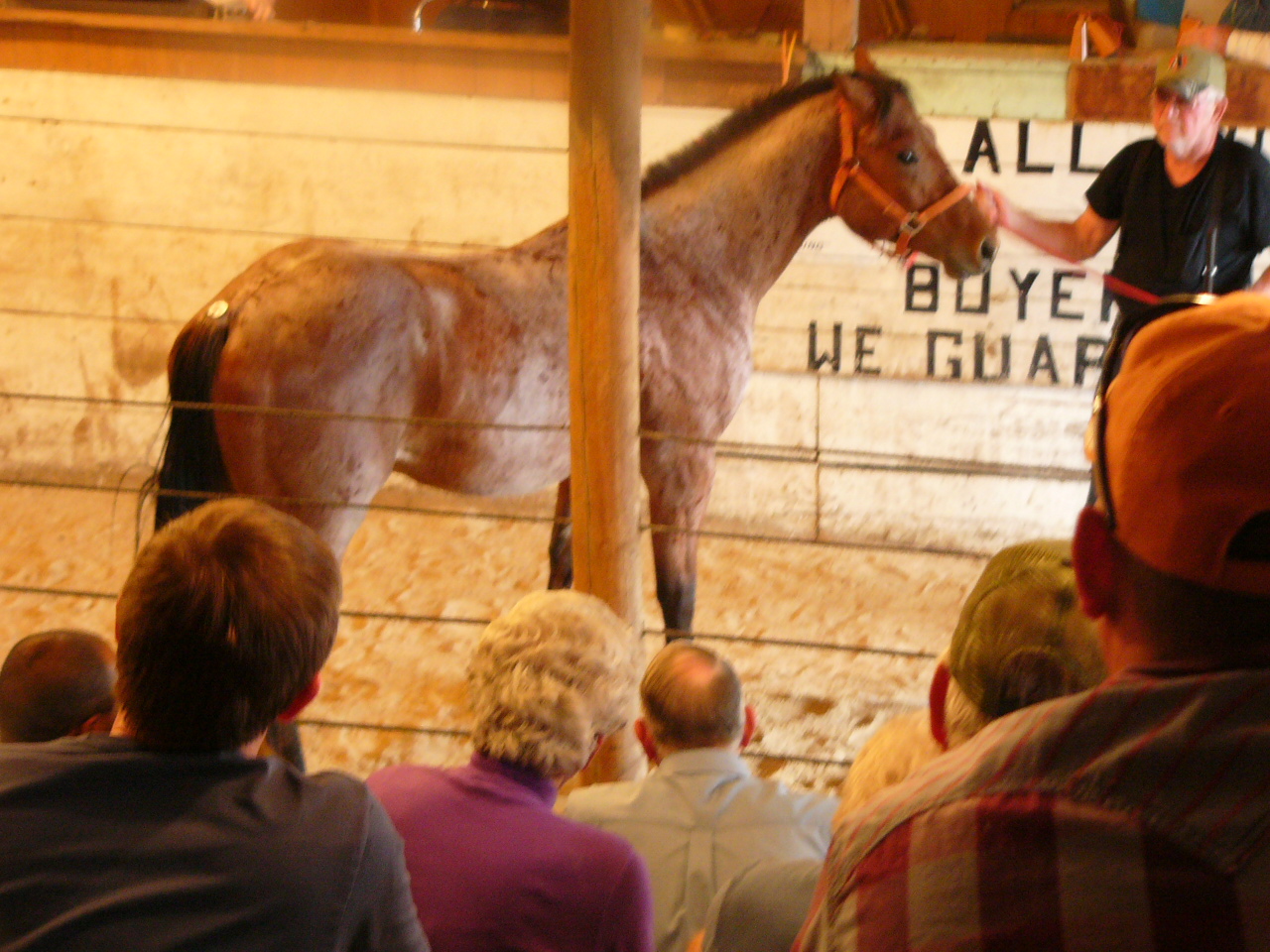 #824
#825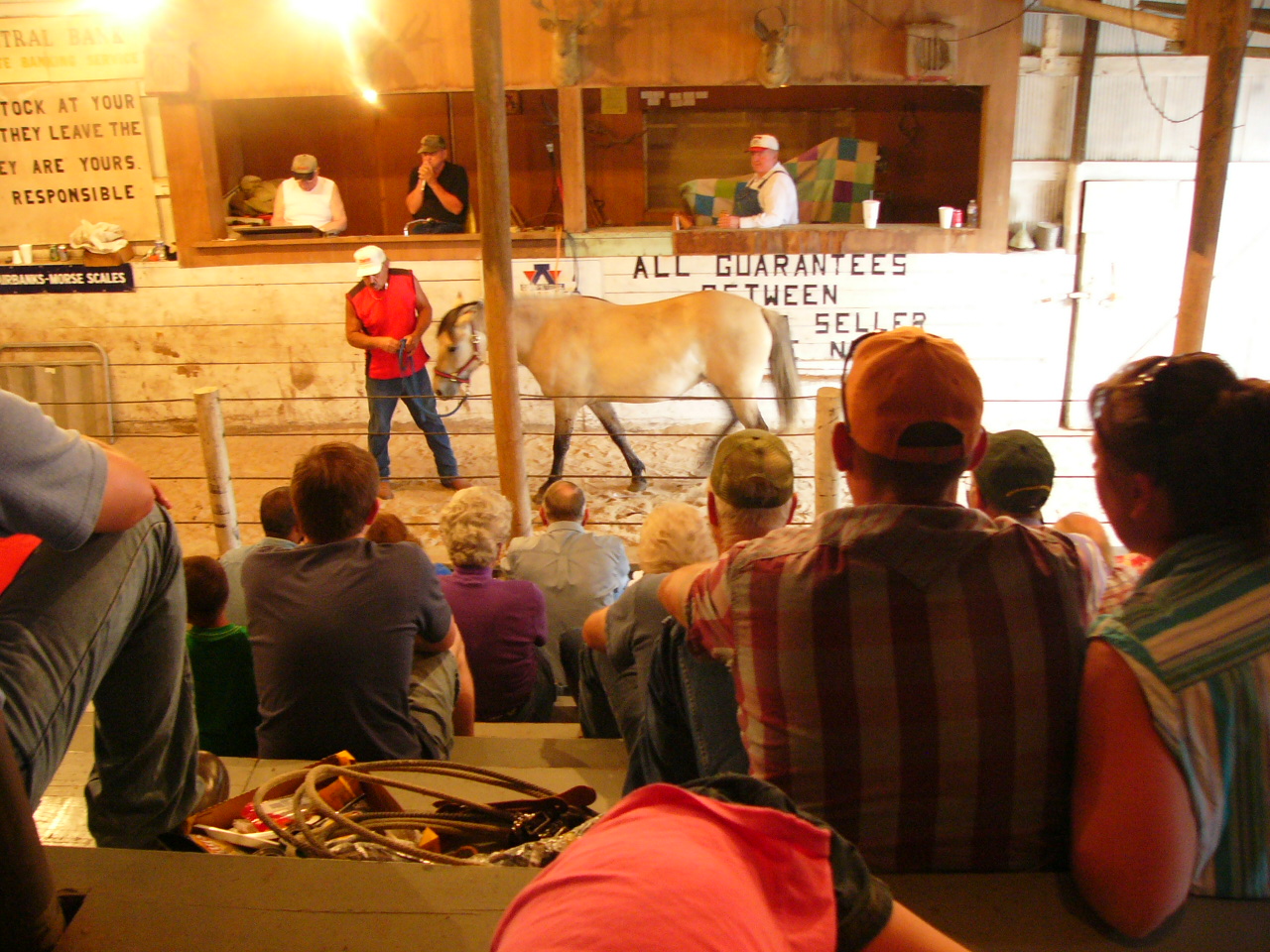 #778
#777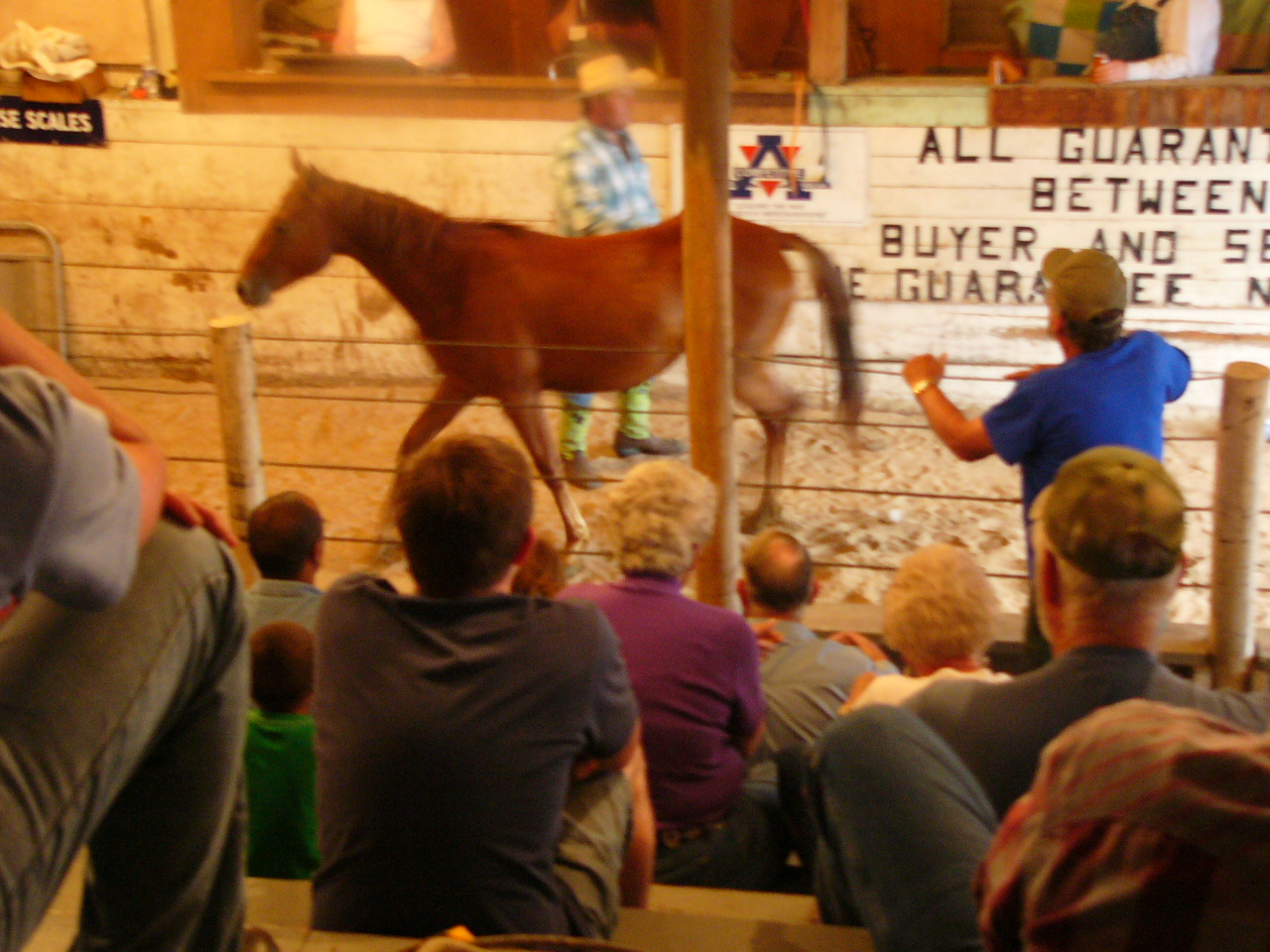 #776
#774 and #780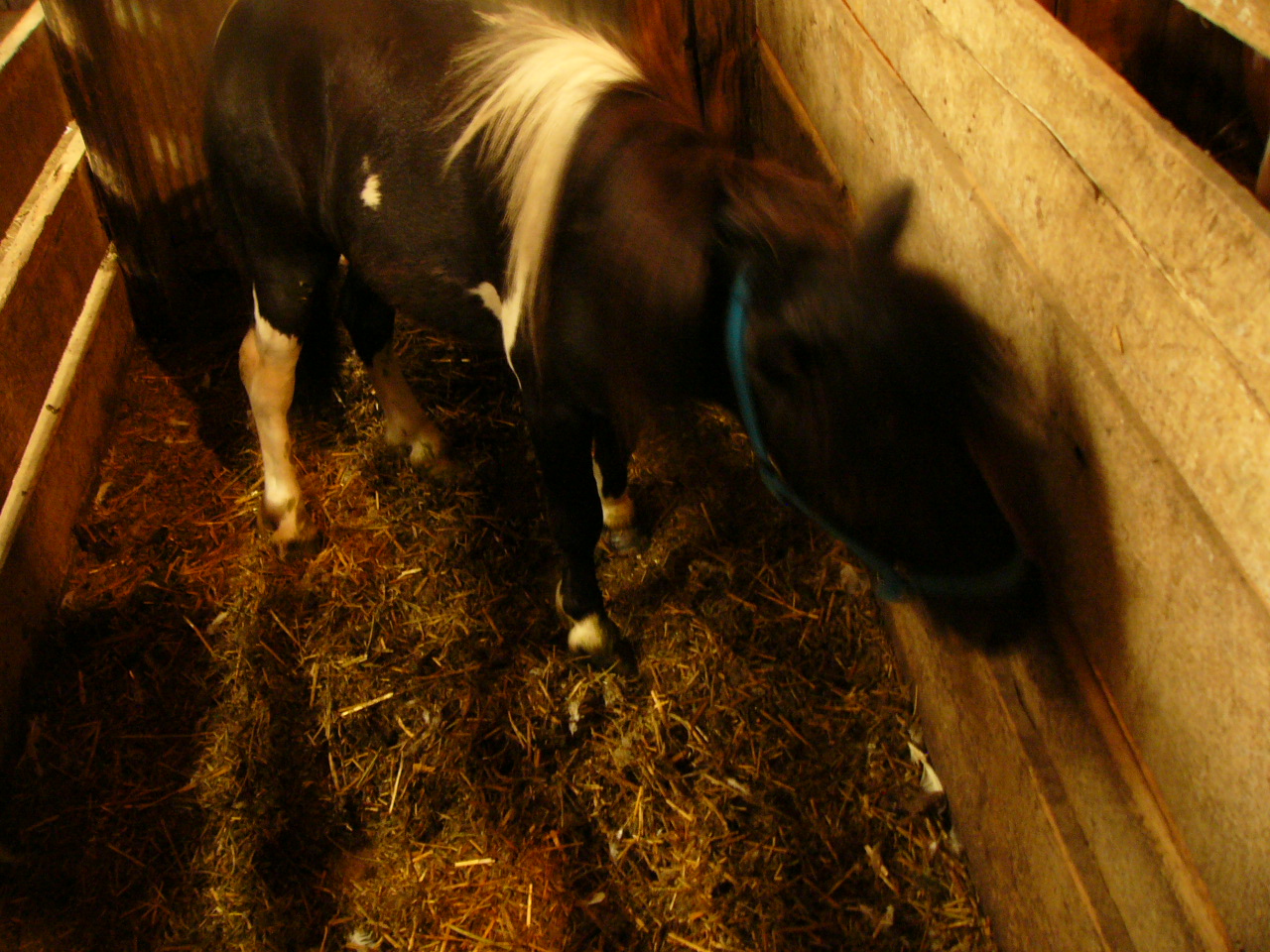 #779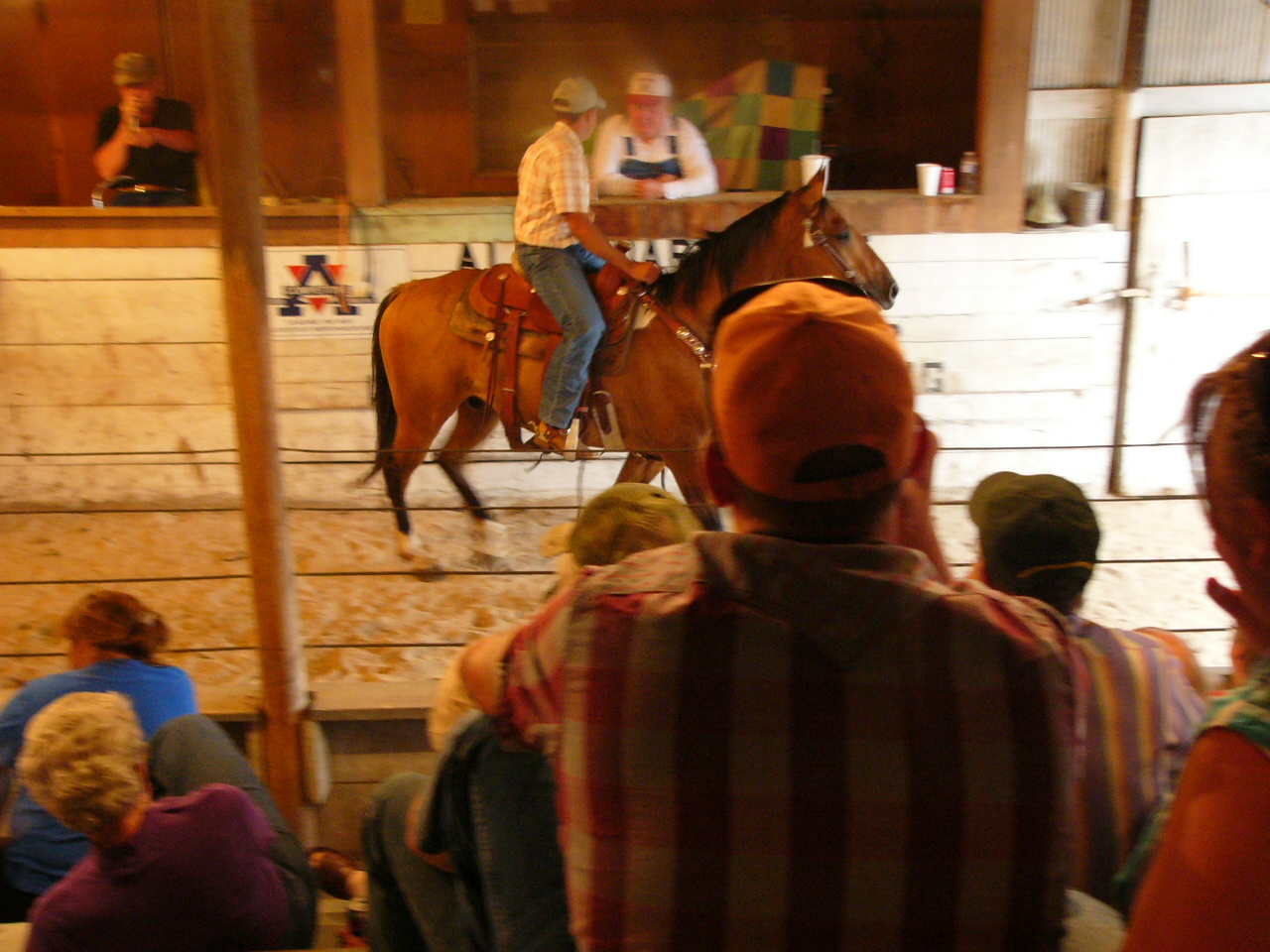 #785
#759
#772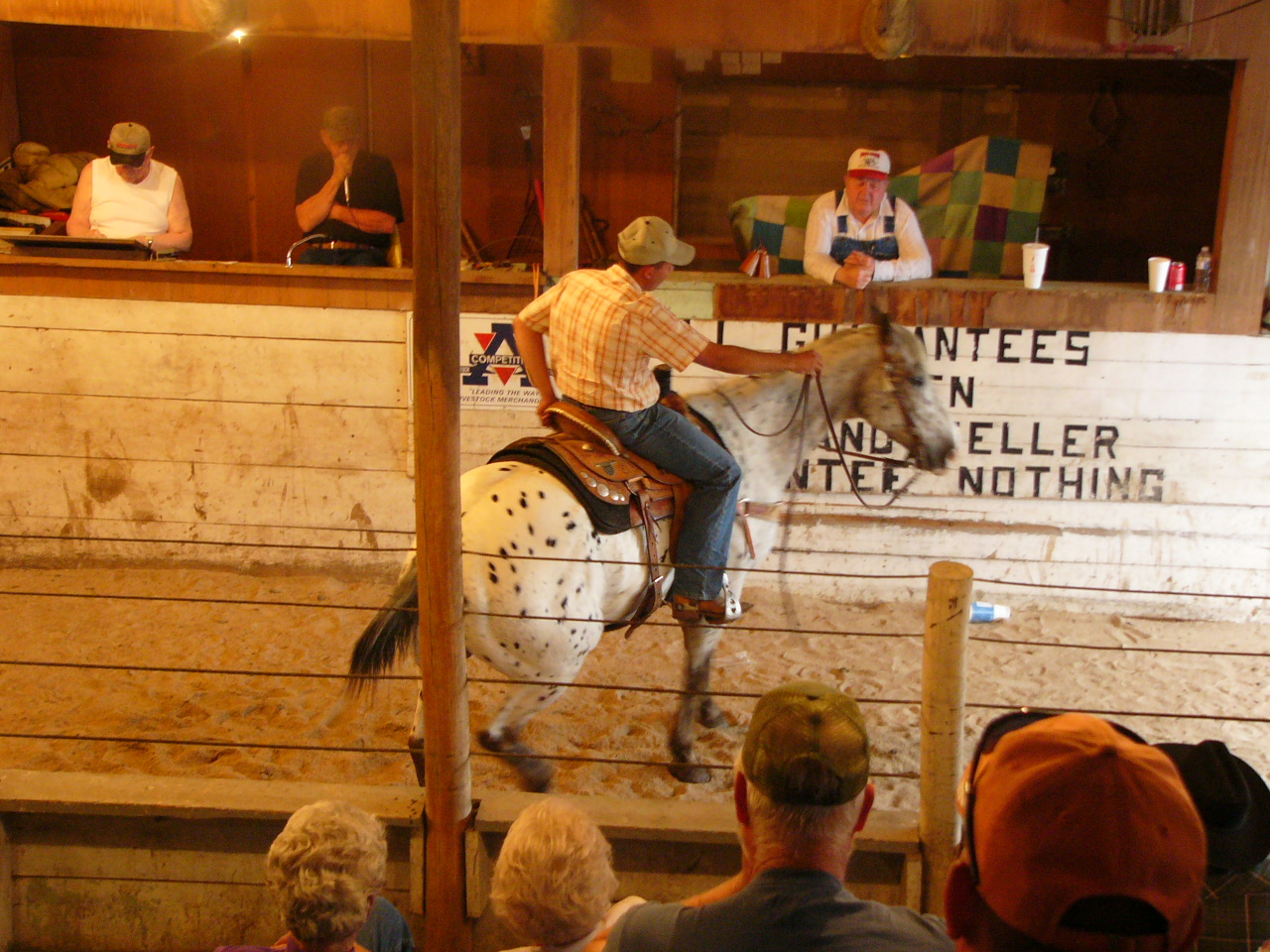 #766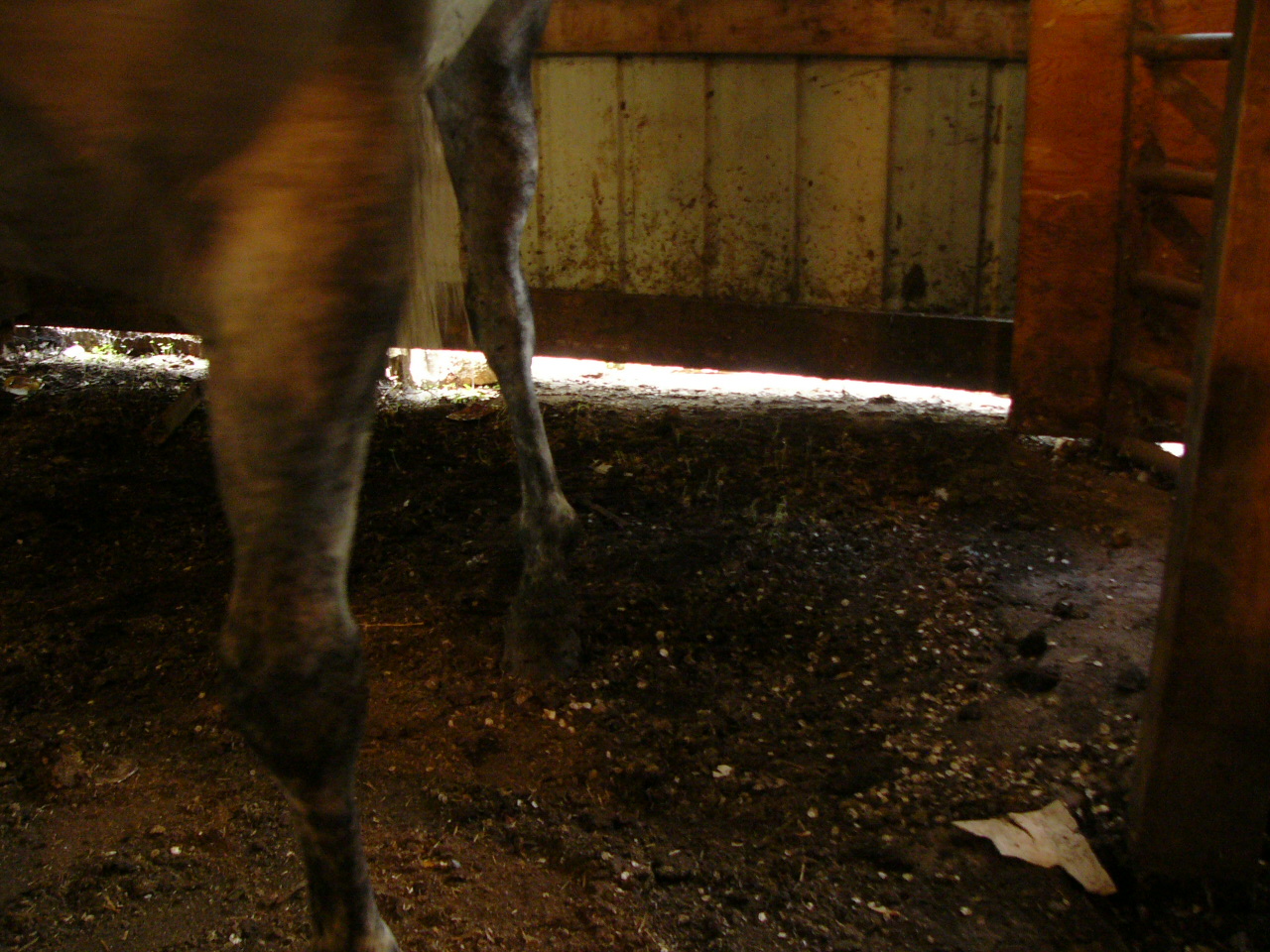 # unknown (grey gelding sold just before the yearlings)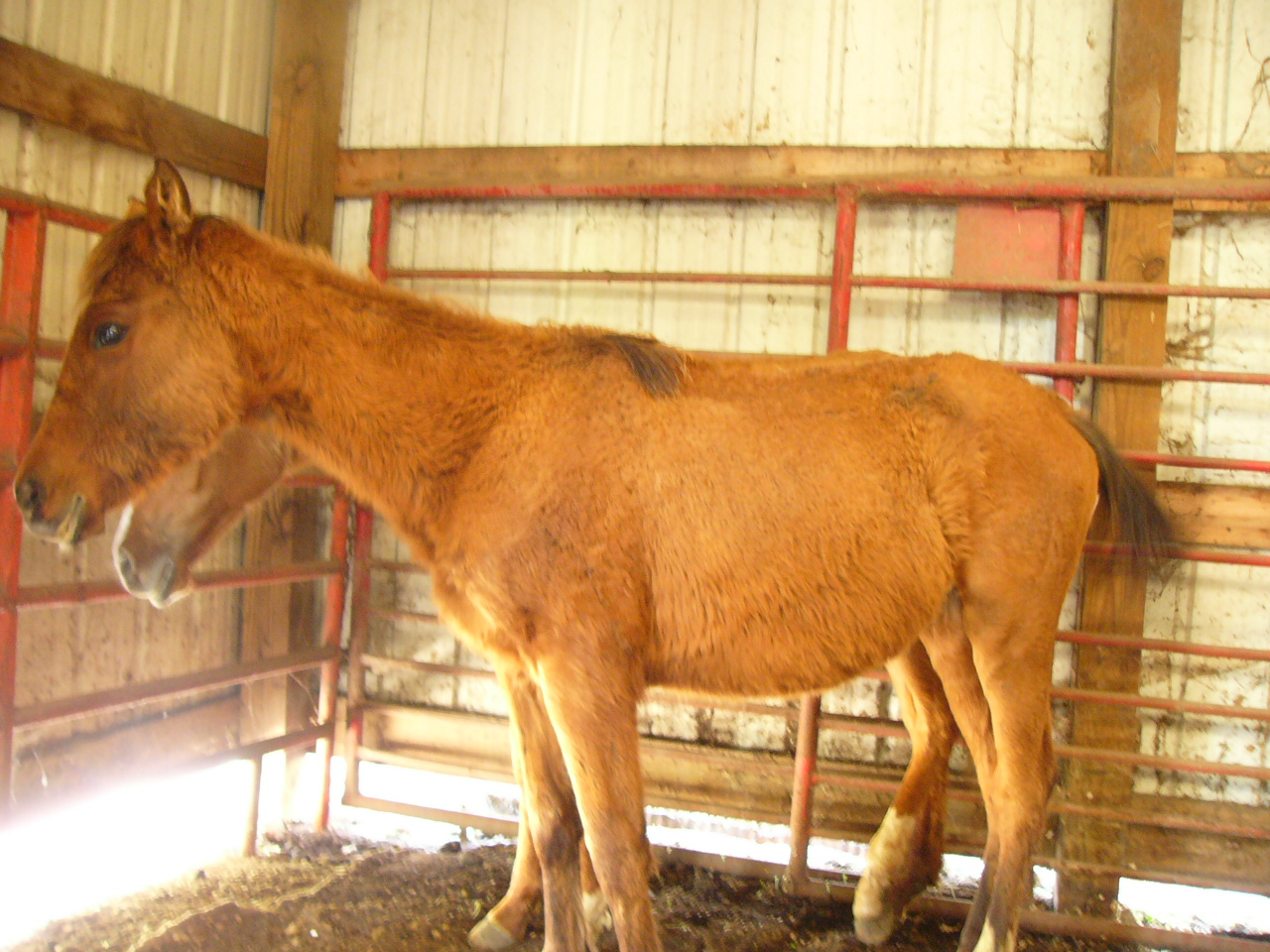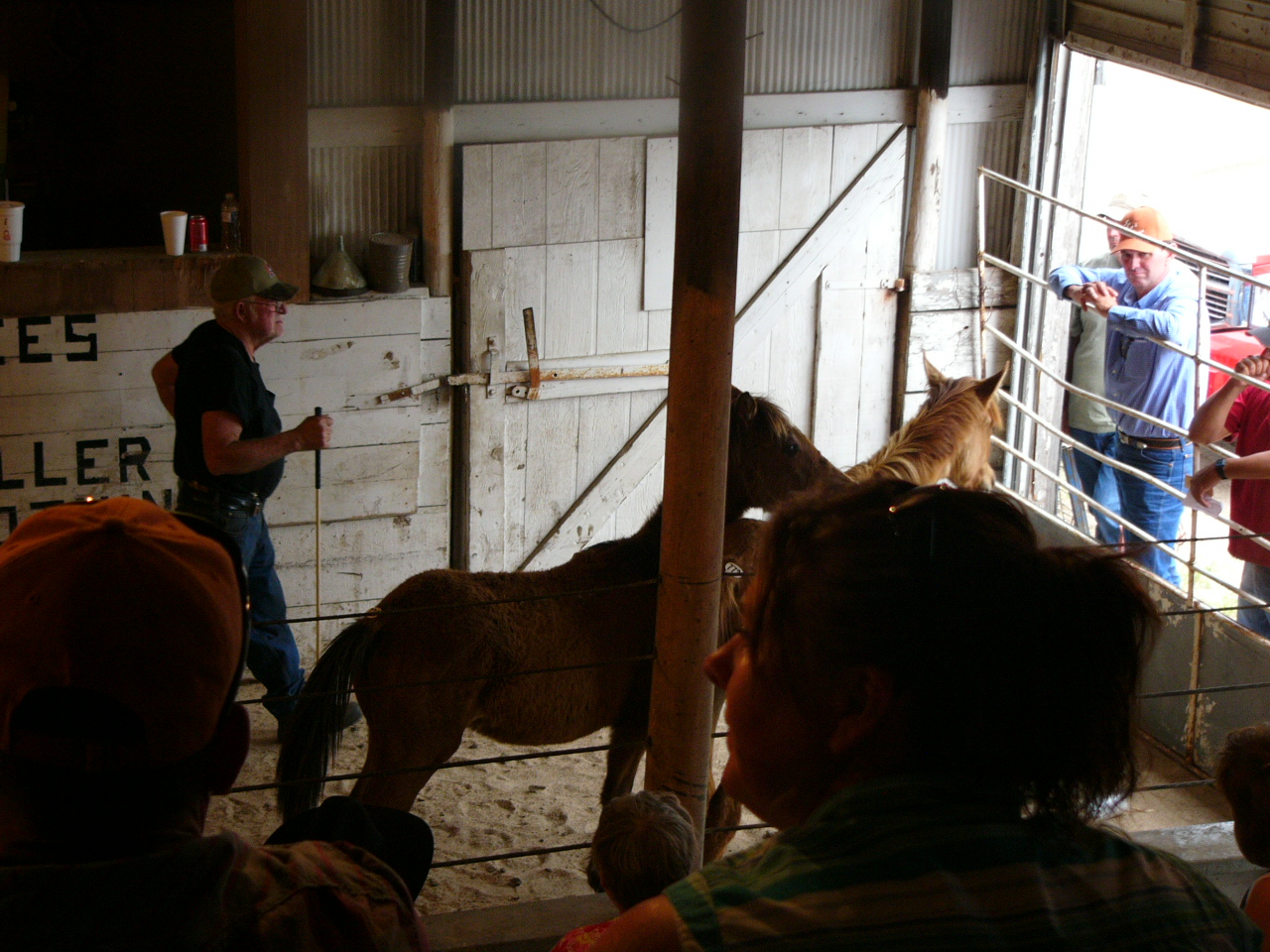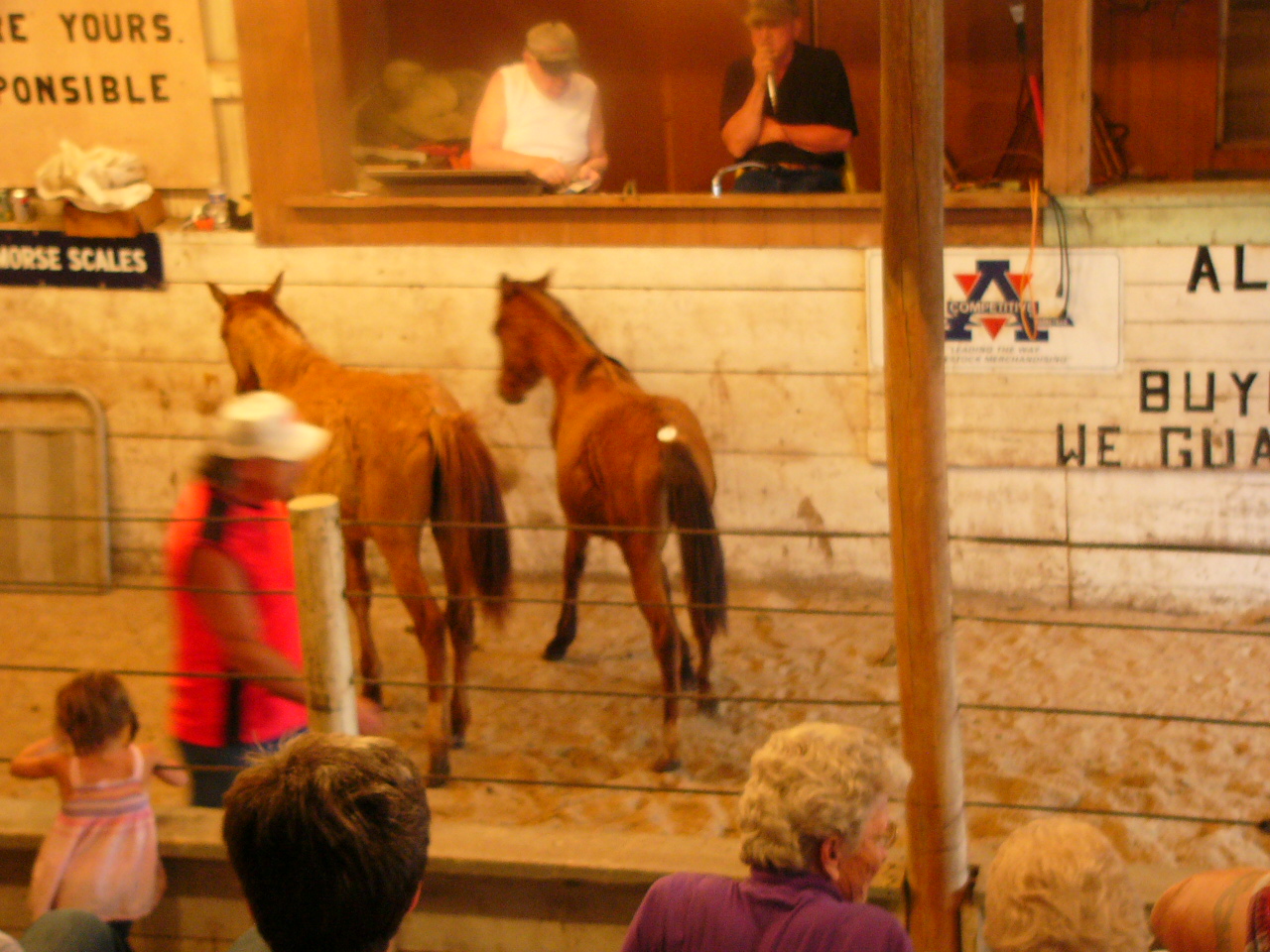 #773 and #774