Please Help Cheyenne!!!
For the third time Cheyenne has gone down. The vet says that the combination of a bad knee, being so hugely pregnant, and the neglect that she has faced to this point are making it difficult to stay up. She needs to lay down to rest, but once she does, she can't get back up. Lynn and Darryl have been using the tractor and creating a temporary sling to help get her back up each time. They are checking her every few hours in case she goes down. This is taking it's toll on the tractor though! The tractor has problems with its hydraulics, so it can only hold her up for so long.
What we need is a sling to help hold her up! So I have set up a chip in account where you can donate directly to helping get Cheyenne a sling. The chip in will run until February 15th.
Update 16 Nov 2007: We have a wonderful organization called Horses Forever out of Colorado that is going to loan us a sling to help Cheyenne. In evaluating Lynn's barn, we have come to the conclusion that it is not going to be able to help Cheyenne and the sling, so we are evaluating several alternatives. One is that Lynn and Darryl are coming to my house (provided that my hubby will go along with it...oh he will, I will make sure of that!) to evaluate my barn to see if it will be able to hold Cheyenne, and to evaluate the tractor here to see if it can be used in the event that Cheyenne goes down. If for some reason that will not work out, the engineers where Darryl works have a plan to create a large support structure for the sling. We will then build a temporary shelter around Cheyenne to keep her safe from the elements.
Update 19 Nov 2007: Cheyenne was moved to my home this weekend. We will be able to use the barn here to house her in as soon as we work out some details. For the moment, she is in her sling in the doorway to the barn (my barn is more of a overlarge run in with two doors on each end.). We had a scare on Saturday night!
I found Cheyenne out of the sling and on the floor of the barn. She somehow managed to get out of the sling. Not sure exactly what had happened, but I freaked out. Ran to the house and grabbed the hubby. We worked for a solid hour with no hope of getting her up...she was trying, but seemed too week from the trip to be able to get up. That is when we noticed that she was biting her stomach. Fearing colic, I ran to the house and called the closest vet. he arrived about 30 minutes later and what he had to say in some cases was surprising.
The biggest shock is that Cheyenne is not pregnant!!!!!! He had his arm in there all the way up to his shoulder and said he couldn't find a baby in there at all. Struck me as strange because after a couple of times of her biting her stomach and cramping like, I tried her teats. They were a little baggy and expressed some white milk! So either, she is preggers and the vet missed it, or at some time she miscarried the baby and we didn't know it (or find it for that matter!), or a possibility that hit me today was that she miscarried prior to being here. Although we all could have sworn we saw the baby move. :o)
She was not colicing, just had a bit of a tummy ache most likely brought on by the stress of trailering.
She has a major heart murmur. He said that on the one side it almost sounds like a washing machine in full cycle. He said it could be cause by the neglect that she faced, but she may have had one prior to that.
He was surprised that all in all, other than being very weak, she has great color to her gums, normal gut sounds, a healthy appetite (what ever you do, don't hand feed the girl...she won't intentionally bite you, but if your fingers get in the way she has no problem eating them too. lol), normal temp, and normal stool. We worked for another solid hour by the three of us with several near misses on getting up. He ended up leaving with advice that she had less than a 50% chance if she stayed down and only slightly higher if we were able to get her up. He told us to roll her over every 4 to 5 hours. He also said that he couldn't imagine us paying for all sorts of blood work on a $5 mare...he obviously doesn't know me does he! He advised us to do what we could to get her on her feet and then give her a few days to strengthen up before making any other decisions about her. If only he had seen her five weeks ago when she was even skinnier!
So after only about an hour of sleep, I cautiously went to the barn...fearing the worst, but Cheyenne was happy to see me and hungry. lol That is when I learned to always feed her out of a bucket...she doesn't do the gentle thing when taking food from your hand, it is more like grab it, as much as you can at one time, no matter how hard you have to bite and then chew quickly so you can get to the next bite. lol When she was done, the hubby came out and helped me get her rolled over and hay set up for her, then we went to church.
After church we called all the neighbors before finally finding one who was home. Mike came over with his loader tractor to help us get her up. I think this is his first experience with a really neglected horse. He looked stunned when I pulled the blanket off of her and he got his first look at her. I told him her story and about Annie and Sarah Beth. He looked appalled that anyone could do that to a horse.
Good news is that we were able to get her back up in the sling. Bad news is that she isn't really happy about it. That is because she has a bit of an uneven ground issue...you see the tractor (and the one our landlord has was even worse!) that Mike brought was too tall to get in the barn to where we wanted the sling hung. So, we had to temporarily hang her suspended in the very center of the barn doorway! Thank goodness that the little window above the door was made so a person could raise it up!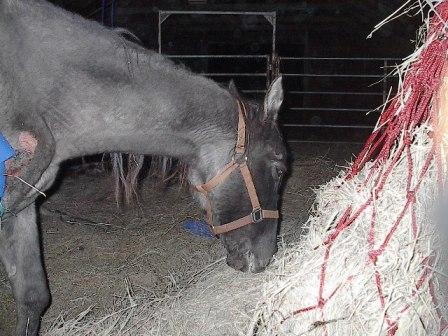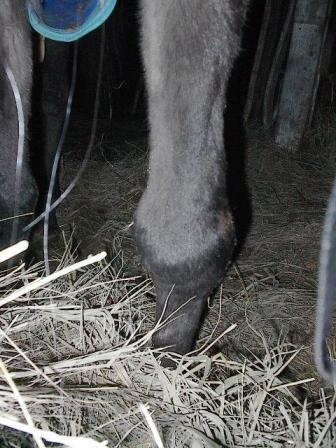 Here are a few pictures I took after we got her up. The first is Cheyenne plowing the hay as fast as she could. She seemed to enjoy it so much more once she was on her feet!
The second and third pictures are two different angles of her bad knee.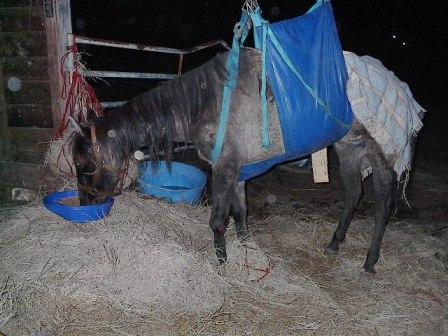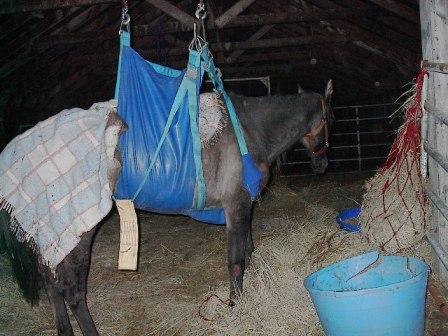 Here are left and right views of Cheyenne in her sling in the doorway of my barn.
I have to admit that it was scary, tiring, and downright mind bending how to get her up. I had put the sling under her previously and then she wiggled her way around until it wasn't right anymore, so we had to get the sling all straightened out, then it was figuring out where we were going to put her, then it was how to get her up without stressing her too much, then it was getting everything adjusted, etc. It took us two hours of maneuvering to finally get her up. We all looked like we had been in the worlds largest boxing match in the end.
But Cheyenne is up and eating (everything in sight!!!!) and seems much happier. She is slowly putting less weight in the sling and on getting more on her feet. She is peeing and pooping normally. And boy can she be sassy! She was trying to buck in the sling and even did a bit of a rear up. It was a little scary, but she settled back down and has been wonderful ever since.
So...we are going to give her a few days on her feet in the sling and then give her a tiny dose of worm medicine, to make sure she isn't wormy, and so she doesn't colic.
Update 20 Nov: Our landlord has offered to let us put Cheyenne in his quonset! This means that she will be in a much larger area where a full sized tractor can drive into to help us get her set up in her new sling!!!!! It also means that she will be on completely level ground so that she can stand evenly on all four legs! This is a very unexpected blessing. We also learned that our landlord has a large engine lift in his quonset. We may be able to use it to help Cheyenne up and down out of her sling. Until we can get the section of the quonset we are able to use cleaned out and ready, I have created a very temporary shelter for Cheyenne. Here are a few pictures.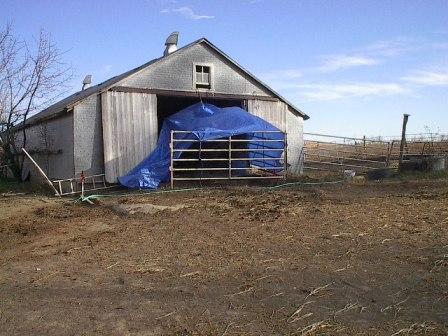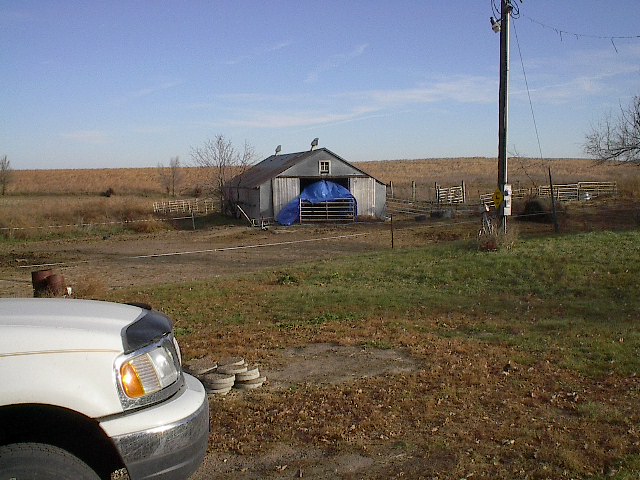 Update 23 Nov 2007: Cheyenne crossed the Rainbow Bridge today. Lynn came to bring the new sling for Cheyenne and we got everything set up for her. When we went to get her out of the sling she was in, we found that the straps were starting to cut into her skin. We slowly removed the sling and Cheyenne was able to stand for a short time on her own. We knew though that her time was to be short. She began having seizures and went down for the final time. The vet was called and he gently helped her cross with those that loved her there to rub her face the way she loved. In the final moments of her life, Cheyenne looked over my shoulder and pricked her ears. I know that she was seeing the friends that were at the bridge to welcome her home and to help her crossing easier.
Run free my Cheyenne. Know that I love you and will never forget you!