Home
General Information:
Mission and Policy Information
Our Programs:
The Chey/Annie Project Fundraisers
The Chey/Annie Project Accounting
The Chey/Annie Project Future Sling Locations
Rescue Information:
Resources:
Pet Food and Product Warnings and Recalls
Congressional Information:
Letter Writing Campaigns For Horses
There Is A Viable Alternative To Equine Slaughter
Horse Health Information:
Cushings/Insulin Resistance Information
Helping Your Horse Prepare For Being Blind
Articles Relating To Equine Blindness
Miscellaneous:
Diego
Diego was my children's first puppy. He joined our family in the fall of 2005 around Thanksgiving time. He was a beautiful and sweet puppy who we adored.

He was so gentle with the kids and understood the difference between playing with them and playing with my husband and I. He was careful not to knock them over and if he did, he always begged for their forgiveness with a sad look that never failed.

He was best friends with our Missy girl. You would often find the two of them playing together in the pasture or sleeping in the barn together. Whenever we would look out the window, they would be together.

Diego was accidentally poisoned. We believe that a neighbor set bait out for coyotes or the woodchuck that lived on our property, and that he accidentally got into it. He died just a few short months after Missy crossed the Rainbow Bridge.

We miss our Diego baby and the fun that he brought into our lives.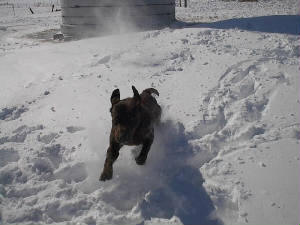 Diego playing in the snow.