Home
General Information:
Mission and Policy Information
Our Programs:
The Chey/Annie Project Fundraisers
The Chey/Annie Project Accounting
The Chey/Annie Project Future Sling Locations
Horses In Need:
Horses for Adoption 2 (New 11/17/2010)
Horses Needing Training (New 11/10/2010)
International Missing/Stolen Horses
Rescue Information:
Resources:
Pet Food and Product Warnings and Recalls
Congressional Information:
Letter Writing Campaigns For Horses
There Is A Viable Alternative To Equine Slaughter
White Paper on Horse Slaughter
Horse Health Information:
Cushings/Insulin Resistance Information
Helping Your Horse Prepare For Being Blind
Articles Relating To Equine Blindness
Miscellaneous:
Horses Looking for Homes
Companion Only Horses
This page is dedicated in honor of my mare Miss Top Sail Pacody (CC) to horses that are companion only horses. This includes older horses with soundness issues, horses that are in need of rehabilitation due to starvation or injury, etc.
The list is color coded to try to help you figure out where the horses are located and contact information.
A pink highlight indicates the number of the horse on the list.
A green highlight indicates the location (usually city and state).
A blue highlight indicates the contact information.
A purple highlight indicates special circumstances.
24 Oct:
Nebraska:
1. this is Ricky. 20 year old Arabian mare. Gentle to people (dominant to other horses if they try to push her around). Likes her grain. I can pay to have her teeth floated before she goes. Must be to a good home that will not starve, neglect, abuse, or sell her. She does need grain along with her hay. Current on deworming. Would be a good companion or pet. She is a fairly small horse. Located in Elgin, Nebraska.
Contact Jenni at nesunset@gpcom.net (nesunset @ gpcom.net)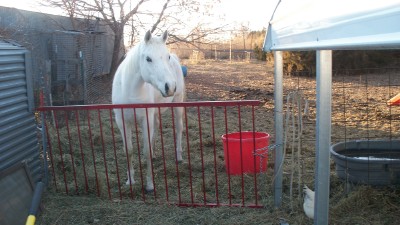 23 Oct:
Texas:
1. 6 YR OLD PAINT GELDING
Location: WILLIS
http://houston.craigslist.org/grd/3331339608.html
FREE TO GOOD HOME.
6 YR OLD PAINT GELDING COMPANION HORSE.
LISTED AS ACOMPANION HORSE B/C OF AN INJURY HE GOT AS A COLT.THE MUSCLE TISSUE WAS DAMAGED ON HIS HIP AND NEVER FORMED BACK CORRECTLY.
12 - 13 Oct:
Arizona:
1. ----- Original Message -----
From: Alicia Miller
--- On Thu, 10/11/12, farren vachet farren.vachet@gmail.com wrote:
From: farren vachet farren.vachet@gmail.com
Subject: Re: horses needing adoption
To: "Alicia Miller" borzoiaddict@yahoo.com (borzoiaddict @ yahoo.com)
Date: Thursday, October 11, 2012, 5:22 PM
Alicia I have sent over 80 emails in the last 3 days. I apologize if I didn't send you the info you need. The horses are in kingman az. There are 5 males and 2 females. It has been over a year since they got there feet worked on. One male can not be ridden, he has broken whithers. The rest have been ridden but not in over 3 years. My mother is extremely ill and in the hospital over 80% of time and my father is a 50 year old construction worker who is unemployed. I am sending money so they can eat. I believe its 60-90 days before the horses die from starvation. You can see every bone in there body. I'm desperate for help. I have contacted every organization in California, oregano, Colorado, and Arizona. Again I'm begging dir help.
Original info:
(Note from Brandi: This is from a forward, so I donít know anything more than what you see here. I believe that the contact for more information is the person who originally posted the information.)
Here's an update on these horses :(
----- Original Message -----
From: Alicia Miller
Sent: Wednesday, October 10, 2012 4:31 PM
Subject: Re: [HRBHNH] Re: 7 Horses Need Homes - Arizona
also she has been shopping for homes since 6-6 saying they were not able to feed them...
--- On Wed, 10/10/12, Alicia Miller <borzoiaddict@yahoo.com> wrote:
From: Alicia Miller borzoiaddict@yahoo.com (borzoiaddict @ yahoo.com)
Subject: Re: [HRBHNH] Re: 7 Horses Need Homes - Arizona
To: HRBHNH@yahoogroups.com
Date: Wednesday, October 10, 2012, 3:28 PM
so far all I've gotten in 5 TB 2 quarter horses, all over 10 years of age in Kingman AZ
She was shopping for a way to get them to Tarpon springs FL earlier;
http://www.uship.com/shipment/7-horses-for-transport/698519374/
She has no idea of the horses weight but guessed 300 pounds. I do not know if she guessed so low because they are really underweight already or if it is some other reason but I do not know many people who would look at a horse and guess that low.
I asked for pictures and specifics.
Alicia
----- Original Message -----
From: farren vachet
To: Hacienda de los Milagros, Inc.
Sent: Wednesday, October 10, 2012 7:55 AM
Subject: Re: Help
Please forward to everyone that might be able to help thank you
On Oct 10, 2012 10:54 AM, "Hacienda de los Milagros, Inc."
<milagro@commspeed.net> wrote:
I wish I had some encouraging things to say. We are at capacity, and donations are down. Unfortunately, we cannot take on more with our finances the way they are. We operate solely on donations, and they are
down. I am very sorry! If you want, I can forward your e-mail to a wonderful person who can share the need with many groups around the country.
Wynne
HDLM
----- Original Message -----
From: farren vachet
To: Milagro@commspeed.net (Milagro @ commspeed.net)
Sent: Wednesday, October 10, 2012 7:27 AM
Subject: Help
Hello my name is Farren Vachet and my mother and father have 7 horses living in Arizona they cannot physically afford to take care of them anymore. about 1 year ago my mother had to have surgery and she is
very ill she can no longer work my father is in construction and is not making enough money to pay the bills the horses are not getting the care and nutritious they need. I have called and spoken with dozens of rescuers closer to them but no one will help. The majority of the horses are retired race horses that my family adopted about 10 years ago. Please help they can no longer adored to feed them, I know
they are not being taken care of like they need to be. My mother is very ill and they need help!!!!!
Wyoming:
1. (Note from Brandi: These are from a forward, so I donít know anything more than what you see here.)
Location: Lander, Wyoming
--
Redroc Ryiah AHA 599825 4/19/2002. Ryiah has some trust issues and would not be good for an inexperienced rider. She would however give her all to someone who..
https://www.facebook.com/Mamema/posts/516014865094136?comment_id=5927537
--
Redroc Jamala AHA 0548712 4/21/97. Blackbay broodmare only. I am only offering these horses as I would rather find them homes than send them to an auction.
https://www.facebook.com/Mamema/posts/460561737329842?comment_id=5034475
--
Redroc Stormileah AHA 574184 6/28/98. She is very sweet and she has been saddled, but just not ridden. She is 15 hands tall.
https://www.facebook.com/Mamema/posts/398538286885011?comment_id=3716216
--
BP RockMy World. AHA#0535092. 3/22/96 chestnut sabino arabian gelding. 14 hands, energetic on the trails. He was a stallion for quite a while and then gelded.
https://www.facebook.com/Mamema/posts/425099074203857?comment_id=4410945
--
Contact: Ingrid Buckmeir: https://www.facebook.com/ingrid.buchmeier
10 Oct:
Florida:
1. ----- Original Message -----
From: BHFER
To: BHFER
Sent: Tuesday, October 09, 2012 4:54 PM
Subject: [BHFER] Pony needs home
This pony mare is estimated to be about 30 years old. She needs a forever home. Owner lost source of income. She is current on worming and dental was done about a year ago Ė she is missing some back teeth. She is located near Ocala.
Contact Melissa at bhfer.melissa@hotmail.com (bhfer.melissa @ hotmail.com) if interested.
Sincerely,
Theresa
Beauty's Haven Farm & Equine Rescue, Inc.
A 501(c)(3) Non-Profit Organization
Website: www.bhfer.org
Donate: www.bhfer.org/donate.html
Facebook: www.facebook.com/bhfer.tb
9 Oct:
Maine:
1. Wonderful Companion Horse
Location: Bridgton
jr2jr-3317652806@sale.craigslist.org
therapy horse that can no longer do the physical work. Toby is a 12 year old, 15.3 hand bay Standardbred gelding. Extremely quiet and easy to get along with. Turns out with anyone. Free to an excellent home with references.
New Hampshire:
1. ree horse
Location: nh
vsmhp-3309917334@sale.craigslist.org
29 year old buckskin mare companion horse for other horses
2. Free Horse
Location: Jaffrey NH
cb7nt-3310063037@sale.craigslist.org
25 year old mare free to a good home as a companion or possibly light trail horse for experienced/confident rider. In good health.
8 Oct:
Kentucky:
1. (Note from Brandi: This is from a forward, so I donít know anything more than what you see here.)
I was sent this by somebody else other than the owner. Only info I have is what you see: Belle is our 14 year old pony mare that we"ve had for 6 years. We got her for our 2 girls when they were younger. My girls are older and weigh too much for her now. She has been wonderful for us. However, in the past year, she seemed to age to the point where she is very inactive. She has trouble walking and would rather lay down than stand for long periods of time. With the economy as it is, we"ve come under hard times and cannot afford to take care of her the way she needs. We would appreciate any help in caring for her. I would gladly give her to someone who could take care of her needs We live in Frankfort, Kentucky.
Kim Sutton Owenton Road Frankfort, KY 40601 ksky2005@aol.com (ksky2005 @ aol.com)
Wisconsin:
1. Thanks brandi for your help
I have a 28 yr old arabian gelding grey in color. He was an old trick horse in his day and still likes to bowe, does all parelli and has been hauled all over the united states in shows. Also have a gelded pet llama. great with the horses has been sheared this spring. he thinks hes a horse halter lead him anywhere...we are located in seymour, wisconsin
cozystables@yahoo.com (cozystables @ yahoo.com)
thank you again
Jenny Mahon
More info:
Pako the llama is 12yrs old
Update (9/26/2012):
Still available
Update (10/8/2012):
none so far. Still available.
27 - 29 Sep:
Massachusetts:
1. 18 yo TB needs a retirement opportunity or he will be put down
Wed Sep 26, 2012 8:50 pm (PDT) . Posted by:
This gelding sounds like a really dear guy and an easy keeper. Thanks for forwarding this so that he might find a home, and that Susan (his human) might see that he's in a good place. That's not so much to ask.
Please forward so that his options might grow, ya never know . . . contact makes the difference.
Thanks,
Kathryn Webers
Massachusetts State Coordinator, Americans Against Horse Slaughter
Goal #1: EXPOSE SLAUGHTER. Your donation here helps that goal:
http://www.globalgiving.org/projects/anti-horse-slaughter-billboards-across-america/
Black Jack . . . he's NOT what's for dinner:
http://www.youtube.com/watch?v=R9-CmJCQTW0&feature=share
http://www.americansagainsthorseslaughter.com/
Find your elected officials: http://www.votesmart.org/
"If you think you're too small to have an impact, try going to bed with a mosquito in the room."
-Anita Roddick
---------- Forwarded message ----------
From: Karin Orsi <karinorsi@gmail.com>
Date: Wed, Sep 26, 2012 at 9:33 PM
Subject: 18 yo TB needs a home
Looking for a companion horse or low cost retirement situation for a handsome and personable gelding in good health to hang his hooves now that he begins his well-deserved retirement. He is a happy go lucky, 16.1h 18yo dark bay TB gelding, who has gotten along with every horse he has ever been turned out with. Basically he is usually playing and mutually grooming with them within an hour or so. Great manners all around and wonderful with other horses. He will stay behind dental floss fencing, has no bad habits and is a love bug. He is a very relaxed and confident horse, neither the top nor the bottom of the pecking order in a herd. He would do fine in a shed with pasture or in a stall with adequate turnout. He absolutely cannot be ridden under any circumstances. I would like to stay in his life by visiting.
His owner has made clear that she cannot afford to pay to retire him and I have had him on lease for the past three years. If I return him to her she will put him down. It is not necessary for someone to take ownership, unless that is what they choose, I am trying to find an affordable way for me to stay in his life and for him to continue to have one. Can you help? The boy says thank you and so do I. Susan my number is 508 395-3877, email- smgold@peoplepc.com (smgold @ peoplepc.com)
22 - 24 Sep:
North Carolina:
1. 2 free horses
Location: china grove
http://charlotte.craigslist.org/grd/3288860439.html
#1. 15 yr old sorrel curlee horse mare, 14.3 hands tall she has a issue going on with her front feet and she isn't sound, I believe with time it can be fixed.. she is gentle and I took her to avoid her owners shoting her...
#2. 4 yr old black and white mare, 14.3 hands tall, she is all but blind, she was born this way and can only see shadows. She is a doll baby though and she is in foal to a paliomino stud for a june 2013 baby
Horses for adoption:
New York:
Posted by: "Christine Dodge" cdodge0@gmail.com cdodge74
Thu Dec 22, 2011 3:42 pm (PST)
Hi everyone,
I want to add my thanks to Mike's to all of you for your words of support and encouragement. We're just so busy with his treatments - two hour round trips daily plus just about a full day spent at the hospital that we just don't have time to write back to each and every one of you. But, please know that we're very grateful to have you all behind us as we fight this thing. We're taking each day as it comes and will continue to do so for as long as Mike wants to.
Yes, we're trying to place as many horses as possible as soon as possible. I'm attachng a flyer that gives only very basic info on most of the horses we're "pushing". Please feel free to copy and post it anywhere you think people will see it - send it on through your emails, facebook, twitter, etc.
We've had an overwhelming response to our plea for volunteers while the college kids are gone. My daughter, Amy, has volunteered to coordinate that for me as I just don't have time to call everyone. If you can help out, you can reach her at aramirez@fibertech.com (aramirez @ fibertech.com) or by phone at 585-905-1579. I'm also attaching a copy of the schedule we have that takes us through the end of the month. (Those that have "exp" after them know how to handle horses). As you can see, we can use more help. Especially people who know how to handle horses as quite a few of them need riding (footing permitting) and/or just walking around to get them out of the pastures for a little while. They're also not really getting groomed or their hooves cleaned out because most of the people we have helping either don't know how to do it or are only here for the one hour of feeding time. Mucking is also a need.
Again, thank you all for being there. We couldn't have placed all those horses without your help. Now we need to find homes for those remaining with us.
Chris
From the List:
Re: Horses in need/equine events 10-11 Jun
Posted by: "Christine Dodge" cdodge0@gmail.com cdodge74
Tue Jun 12, 2012 6:31 am (PDT)
Hi Brandi,
We need to update our info on the horses we still have, please. We have 12 here now and need to find placements for six of them. They are:
--
Bailey: 20 yo QH Palomino gelding, 16.1 hands, big build, well trained but hasn't been ridden regularly for over a year and needs "refreshing". Ties, clips, stands for farrier.
--
LeCie: 12 yo Standardbred mare, 16.1 hands, dark bay (looks black). Started under saddle but needs refreshing and finishing. Ties, clips, stands for farrier.
--
Patches: 12 yo Paint mare. Was being ridden by children but hasn't been ridden reguarly in five years. Needs refreshing. Not good with farrier.
--
Lightening Bug: 25 yo Mustang mare, 14.2 hands, chestnut with flaxen mane and tail. Good under saddle - but likes to go. Needs some work on ground manners. Stands for farrier.
--
Holly: 28 yo Saddlebred mare. Likes to play "catch me if you can" but is fine once caught. Not good with farrier. Pasture mate only (would like to see her stay with Ruby).
--
Ruby: 20 yo TB mare, arthritic. Great ground manners, likes to be groomed, good with farrier. Pasture mate only (would like to see her stay with Holly)
--
If you could post these for me, I'd be very grateful. Thanks.
Chris
Please Click Here to see our second page for Companion Only Horses.